Bishop Barron speaks the Church so accessibly, he's inspiring me to pick up the pages of an accessible writer
Need an idea for Lenten almsgiving?
Help us spread faith on the internet. Would you consider donating just $10, so we can continue creating free, uplifting content?
Make a Lenten donation here
Brandon Vogt is one of those tireless young converts to Catholicism who brought the fullness of his abilities and passions with him into the Church and immediately offered them as innovative service for purposes of God.
One of those projects is Strange Notions, a popular and influential website where atheists and believers come together to challenge each other in open dialogue — respectful arguments made in good faith — in an effort to better hear, understand and live with one another and work toward a better society.
Given the success of Strange Notions (the site is the #4 ranked atheist-concerned blog on the internet) and Brandon's familiarity with the atheist community, when he noticed their reactions to a conversation between Bishop Robert Barron and atheist pundit Dave Rubin, it was important that he helped us too notice it as well. "I've chatted with hundreds of skeptics over the years," writes Brandon, "yet I've never seen a such a stream of genuine respect and appreciation for a Catholic cleric."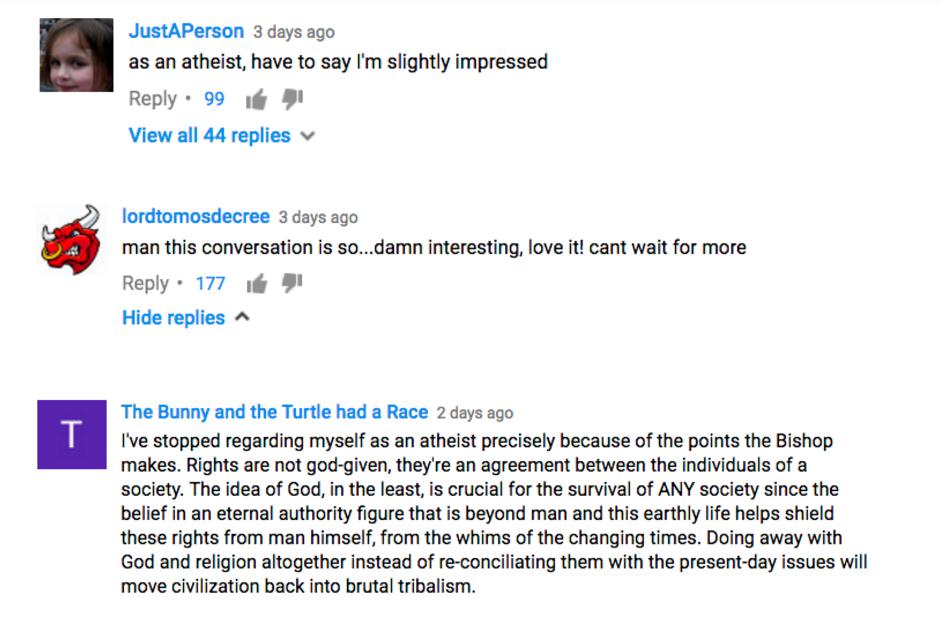 Brandon Vogt works for Word on Fire Ministries (formed by Bishop Robert Barron as a way to use all media to serve the New Evangelization), so it is to be expected that he admires Bishop Barron, but he feels the Barron/Rubin discussions are something really special: I think the interview offers a sort of masterclass in apologetics and evangelization. The answers weren't perfect, and like any guest, I'm sure Bishop would love to go back and rephrase one or two of them (always the case with any unscripted, wide-ranging, hour-long interview.) But his responses are the best I've seen on several prickly issues. They're sharp, clear, funny, and winsome, and confirm Bishop Barron's intuitive grasp of expressing the Faith in the right way, with the right words, with the right sensitivities.
Barron and Rubin both bring up great writers and thinkers of the Western Canon — they cite philosophers in order to help illustrate and broaden their points, and when the do, the discussion really sparkles, because deep reasoning resonates, whether one is hearing an idea for the first time or the thousandth. This interview makes me want to go pick up a few books by Peter Kreeft, who writes on philosophy in perhaps the most accessible way possible, to brush up on my own reasoning skills.
In fact, Lent is coming, and Lent is always a time for buckling down and reading books you might not otherwise be picking up. Perhaps time to try Kreeft's Practical Theology: Spiritual Direction from St. Thomas Aquinas, or something perhaps more personal: How to Be Holy.
Watch both parts of Bishop Barron's interview with Dave Rubin, and see for yourself how a healthy dialogue can happen between two people whose beliefs are very different, and how a grounding in philosophy plays a big part in any dialogue's success.