Just how many should you eat? Plus: debunking the cholesterol myth.
What can God do in your life with one Bible verse a day?
Subscribe to Aleteia's new service and bring Scripture into your morning:
Just one verse each day.
Click to bring God's word to your inbox
With Easter just around the corner, I thought now would be as good a time as ever to talk about eggs. Because even though we think about them a little more in the spring, eggs are an important part of a healthy diet all year long.
In my opinion, the only thing more fun than dying Easter eggs is eating that colorful creation. And my kids agree! They love hard-boiled eggs … though I've noticed that they all have different and interesting methods of eating them: yolk-first, yolk-last, biting into it like an apple. Sorry, Reese's, but there's no real wrong way to eat an egg, either.
Read more:The surprising holiness of Easter eggs
But in the past, not everyone thought enjoying eggs was so good for you. Over the last few decades, many people were advised against eating these nutrient powerhouses because of the cholesterol levels inside. In reality, though, health professionals missed the mark.
Yes, eggs contain high levels of cholesterol, but it's high density lipoprotein (HDL), which is considered the "good" kind of cholesterol. It actually does a number, literally, on the low-density lipoproteins (LDL) that aren't as good for you. Not to get too scientific, but here's a little background on lipoproteins: these types of fats are known as carriers in the body. Cholesterol can't dissolve in the blood on its own, so it is transported by the HDL, which also helps to carry LDL out of the bloodstream. In plainer terms: You really need HDL cholesterol in order to combat the bad fat that's stored and coming into the body.
I still get asked very often if it is healthy to eat eggs, especially by men and women with high cholesterol or a family history of high cholesterol. The answer is yes! The only downside to eggs is they are a likely allergy food, so not everyone can enjoy them. (I always feel bad for anyone who has to stay away from eggs because I love them so much! Also, here isn't a great substitute that has the same nutrient panel.)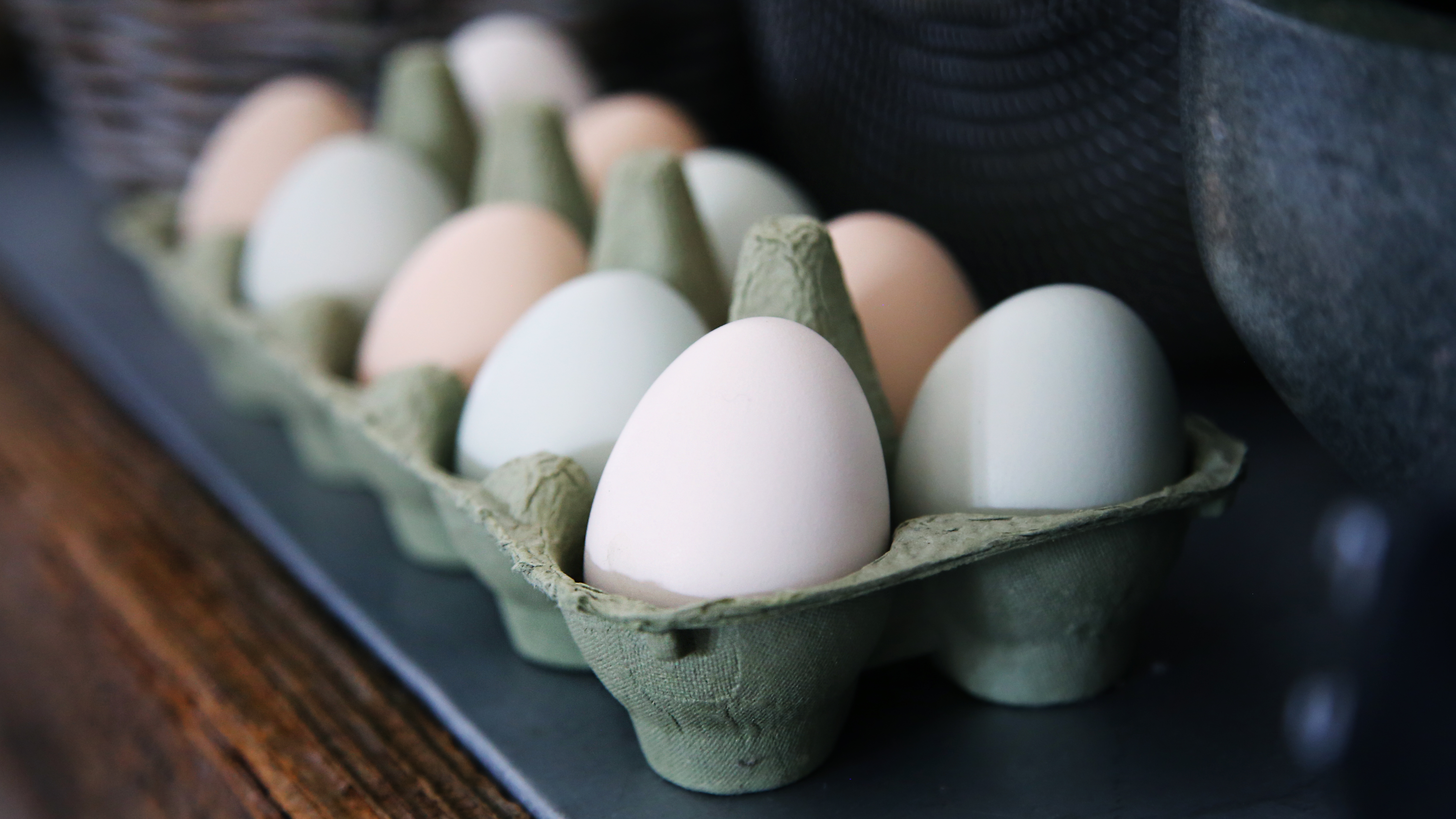 But if you aren't allergic to eggs, I highly recommend you incorporate them into your diet, pronto. I even jotted down five very good reasons to to egg-out:
1. Eggs are filling
Without knowing the nutritional value, so many people eat eggs because they're filling and not heavy. Having a complete protein like eggs combined with a complex carbohydrate like sprouted grain toast and a simple carb like fruit in your breakfast is giving you the best energy you could possibly start your day with.
Read more: Adorable Easter cookies with an orange glaze
2. And so versatile
If you didn't already know, there are pretty much a bazillion different ways to use eggs, even plain. You have over easy, sunny side up, over medium, poached, scrambled, omelet, hard-cooked, baked egg muffins. Do I sound like Bubba from Forrest Gump yet? I have a passion for eggs like Forrest does for shrimp.
3. They contain all 9 essential amino acids
An egg is a complete protein, so it contains all essential amino acids. The reason these amino acids are essential is because our precious beings can not produce them, so we need to get them from our diets. These are the building blocks of protein and pretty much involved in every action and reaction in the body. Incredibly important.
4. They're little oval nutrient powerhouses
I mentioned this above, too. Eggs are loaded with B vitamins, as well as almost every vitamin and mineral required by the human body. They have iron, potassium, zinc, calcium, manganese, folate and more! Keep in mind that's the full egg; the fatty yolk is actually the part that contains most of these micronutrients, while the white is solid protein.
5. Eggs make baking possible
Isn't this everyone's favorite way to use eggs? Add them to your baked goods! This actually helps to provide a more balanced treat given the ability eggs have to help stabilize your blood sugar. Don't swap them out just because it's trendy. Take the complete protein and run!
Read more:3 Exercises you can do while the coffee is brewing
Now for the million dollar question! How many eggs are you allowed to consume a day?
I get asked this all of the time, but I'm afraid that there isn't a great scientific answer for this. There's just my opinion, influenced by my decade of experience in the health field. So my advice, if you want to take it, is this: How many eggs you eat should be based on your size. I think most adult women would benefit from 1 to 3 eggs a day, while I think many men would do their bodies and minds good by eating 3 to 6 eggs a day.
Long story short? I think they make an eggs-celent choice for breakfast whether your goal is energy, weight loss, lowering risk of heart disease, helping with fertility, helping with morning sickness, or just really great brownies.