May St. Joseph, patron of a holy death, intercede that we all might end our lives on earth like this.
What is "a good death"? Here are three true stories shared with me that speak of the wonder of life's last moments.
1. I'll see you in heaven
A widowed woman who's in a prayer group with me recently shared this story about her husband.
Paul had cancer and wasn't expected to live.  He'd been in and out of consciousness for days, with his family trying to at least make him comfortable. His wife remembers the remarkable scene, now 18 years later.
"He was kind of restless, making little moaning sounds, moving his arms and legs around a little but not saying anything. He seemed half awake, half asleep. I was sitting there by his bed, holding his hand, and had just finished some prayers and I was fixing his blankets around him.
"His head turned a little and he seemed to be looking toward the clock on the wall, so I said, 'It's 6:15, Paul.'
"Then he was suddenly very alert, and a big smile came over his face, his eyes got big, and I realized he wasn't looking at the clock at all.  He was looking beyond it, very intensely, into mid-air, and he was seeing something, or someone, obviously.
"This smile on his face was huge and his eyes were all lit up and he was just staring!  I just looked at him with tears streaming down my face and I said, 'Paul, I'll see you in heaven!' just as he closed his eyes and passed.  It was so beautiful.  It was a gift, and I've never worried about death since then."
2. It's beautiful here!
My friend John had already been widowed once years before. Now his second wife, Anne, had a terminal illness and a hospital bed had been set up for her in the den.
All the signs were there that she didn't have long to live. She had stopped eating and drinking. Their parish priest had been by the evening before to give her last rites.
John sat by her bed holding her hand while they listened to a CD of hymns. "Just as I noticed she wasn't humming quietly along any more, she called out, 'John! It's beautiful here!'  Then she stopped breathing, and she had the most peaceful happy look on her face. I couldn't have asked for a more beautiful death."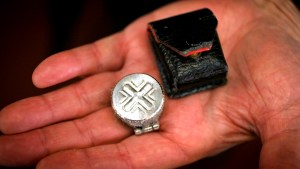 Read more:
What is the Apostolic Pardon?
3. Judy, you're here!
Elaine's children are still grateful for the profound final moments with their mother just after Thanksgiving.
Elaine had suffered with heart disease for a long time and had taken a turn for the worse. Her son John remembers her increasing exhaustion and difficulty breathing, with even talking becoming harder for her.
"My sister had been to the doctor with Mom when he recommended hospice. Instead of my mother being devastated and rejecting it, she just immediately said, 'Well this will be some time for loving the people I love and doing lots of praying!'
"And that's what she did. Her friends would come by and pray the Rosary with her by her bed, she'd watch daily Mass on EWTN, a priest came by with Communion for her a few times a week, and my dad would read to her from the Bible or other spiritual books.
"She didn't say no to anyone who wanted to visit … there was none of that 'oh they can't see me like this!'  She just continued to be her regular self, asking about everyone and their lives and never complaining."
The family was there the day she passed. They'd been sharing happy memories of family time together when Elaine seemed to fall asleep.
Then she started talking, talking to her sister Judy who'd died 25 years ago!  She's going "Judy, you're here! I've been waiting to see you. Oh yes, yes, Judy. I love you."
"We know she saw her sister and it was just such a great thing to hear her talking to her, to know she's with her now.  Then she died, just like that, talking to her sister."