After almost losing his leg, Grant Newsome comes to Rome as a pilgrim in search of healing
Measuring on average six feet tall, and with their colossal shoulders, the 190 American football players of the University of Michigan, occupying the front rows at the papal audience in St Peter's Square on Wednesday, were hard to miss.
Known as the Wolverines, these young men belong to what is considered to be one of the best college football programs, as it is very common for players from the program to be drafted into the NFL.
The young giants were amazed by the words of the Holy Father and the majesty of St. Peter's Basilica. One of them was particularly unable to contain his joy. "I am so happy to be able to listen to Pope Francis in person and see him with my own eyes," said Grant Newsome to iMedia at the end of the papal audience.
An unexpected blessing
"It was really important for me to come and listen to the Pope…As a Christian, Pope Francis is a spiritual figure for me," Newsome exclaimed with a smile, "and to be here to receive his blessing is a unique experience!"
Grant was highly anticipating the blessing of the Holy Father. A few days earlier, the football player told US media that he hoped that the papal blessing "spiritually heals" his leg injury, which he has barely recovered from.
Grant's role is on the offensive line and he is in charge of blocking the opponents and preventing them from tackling the quarterback or to create openings for other players. The offensive guards rarely touch the ball, but player-to-player contact is part of their role in the game, and often brutal.
"I would have lost my leg"
Injuries are therefore part of the daily life of this class of players, but the one Grant suffered in October 2016 in a game against the University of Wisconsin was of unusual gravity. Running at the edge of a play, the 20-year-old player received a blow to his knees by a Wisconsin player.
Under the shock, Grant's knee was dislocated. The doctor had only 30 minutes to intervene. "I would have lost my leg," the player later told the media. The wound was such that he nearly did lose his leg and perhaps even his life was in danger.
After months of convalescence and about 40 operations, Grant walked again. Some specialists talk about a "miracle." For the young man, being in Rome constitutes a true pilgrimage insofar as "faith occupies an extremely important place" in his life and on the field.
A helmet and a pair of sneakers for Pope Francis
"Francis's words on fraternity and inclusion resonated with me," he added, "it is also great to listen to the word of God, given life by the Holy Father."
And it does not matter to him if all his teammates do not share his faith. After a brilliant season (10 wins and only 2 loses) "being in St. Peter's Square represents a lot for each of us," he says.
A few minutes before the audience, coach Jim Harbaugh approached Pope Francis to give him a pair of sneakers and a football helmet in the colors of the team. He was then received in a private audience by Pope Francis. After this face-to-face meeting, Jim Harbaugh said he was "on a cloud of graces."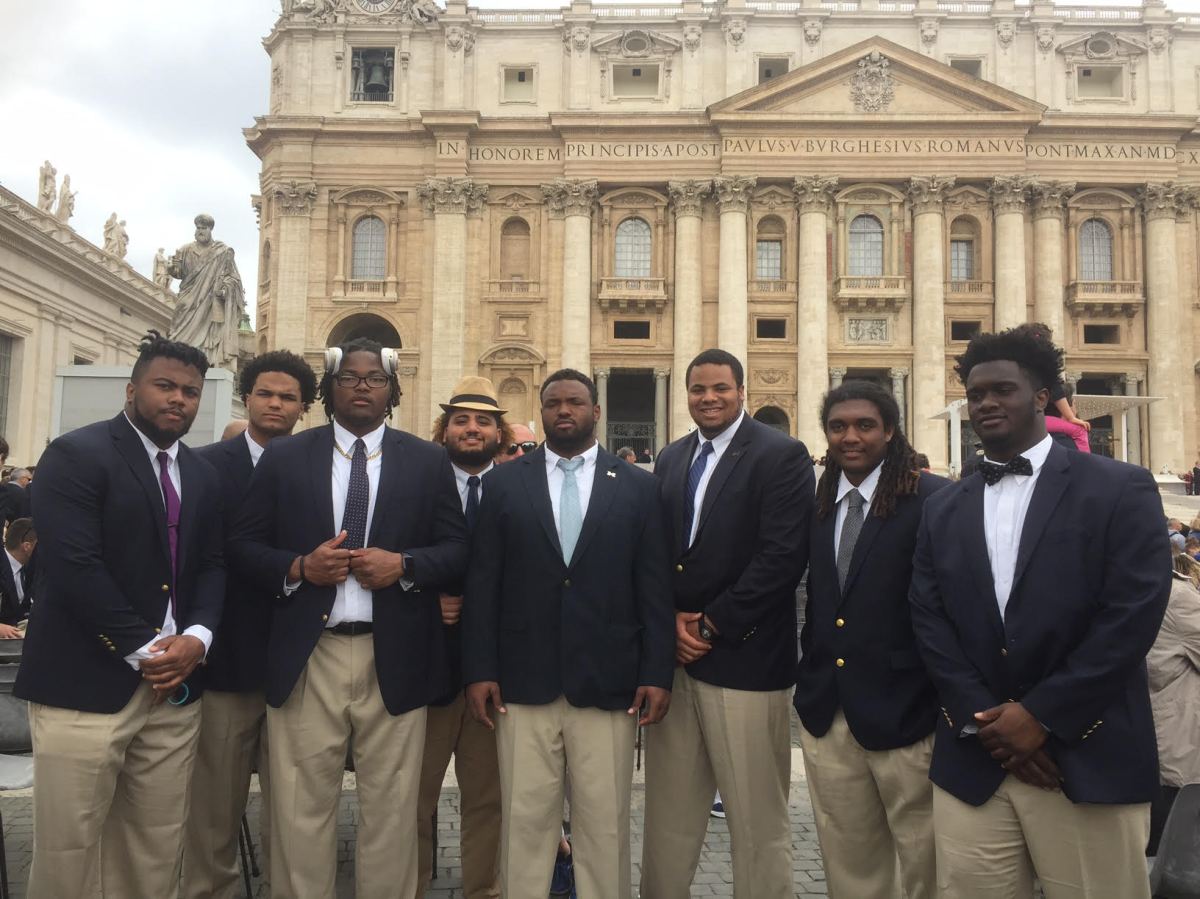 Launch the slideshow