This natural substance is truly the Swiss Army knife of the beauty product world.
Mother Nature often has what we need to take care of our bodies in more ecological and healthy ways — and coconut oil is a prime example. It's the natural beauty multi-tasker, especially suited for skin and hair, and a great substitute for toothpaste, make-up remover, or even after-sun cream. But how do you choose the right product and how do you incorporate it into your daily routine? Here's the low-down …
The properties of coconut oil
A good coconut oil is made from the pulp of a ripe coconut, grated, dried, and then cold pressed. Although it can be used in a liquid form — after being heated using a double boiler — coconut oil becomes a solid and smooth balm under 77° F.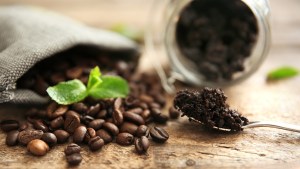 Read more:
Natural skincare: 5 Cosmetic uses for coffee
Rich in saturated fatty acids, this plant oil is made up of nearly 50 percent lauric acid, full of anti-viral and anti-bacterial properties. Its useful in cooking due to its digestibility and resistance to heat, but in  recent years has become better known as an effective beauty product, especially when used as a skin balm and hair oil, where it helps provide moisture and volume. Getting the Hollywood vote, coconut oil has been praised by actresses such as Gwyneth Paltrow, Jessica Alba and Blake Lively.
How to choose the right one
For the best results, opt for a non-refined 100 percent virgin coconut oil, which is non-hydrogenated and produced straight from the first cold-pressing, allowing the oil to retain its beneficial properties and nutrients. Select a product that is 100 percent organic certified for either culinary use or as a healthy and natural body product. You'll find it readily available in an natural health stores next to other culinary oils, and you can also get it online.
Coconut oil's cosmetic benefits
Softens skin
Coconut oil is also beneficial for having an emollient quality that helps to relax the skin and make it feel softer. It deeply nourishes and hydrates. Because it helps make skin supple, it's recommended for reducing the appearance of stretch marks. Ideal for dry patches, coconut oil will not only repair skin but protect it against imperfections. Its anti-microbial and anti-inflammatory qualities are known to calm skin irritations and infections, such as candida.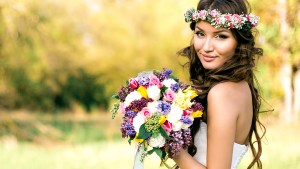 Read more:
A natural skin care and hair guide for brides
Nourishes hair
Coconut oils can be used as a mask before your normal shampoo or as an oil bath. Particularly recommended on frizzy, curly, or dry hair, it helps to bring back a bit of bounce and shine to your tresses. And here's something you will hopefully never need to learn first-hand: it's recommended as a helpful aid to fight head lice!
Personal hygiene 
Thanks to its anti-bacterial properties, coconut oil is also useful as a toothpaste or a mouthwash; it helps fight against oral bacteria, as well as helps to whiten teeth. Coconut oil also acts as a base in a number of organic deodorants that can be made at home, to help prevent the build up of bacteria responsible for bad underarm odor.
6 ways to use coconut oil in your daily beauty routine
Moisturizer: Apply a small amount to any dry zones on clean skin.
Makeup remover: Apply some oil with your fingertips, then wipe off the oil with a facecloth. Effectively removes all makeup, even the waterproof kind!
Light sun protection and after-sun care: For everyday use, it protects your skin for short periods of sun exposure (but doesn't replace your regular sunscreen if you're exposed to sun for a prolonged period of time), and it also helps to soothe the skin after being out in the sun.
Toothpaste: Place a pea-sized amount on your toothbrush and brush your teeth as normal.
Lip balm: To avoid chapped lips apply a little oil every day. Soon your lips will be left feeling soft and nourished as well as protected from the cold.
Hair mask: Place on the tips and length of your hair for a minimum of two hours, and the coconut oil will immediately react by revitalizing your hair. Don't forget to shampoo your hair twice to rinse out all the oil.