Our tour of Rome's Little Madonnas brings us today to Piazza Carpegna.
We continue with our daily tour this month through a particular artistic expression of Marian devotion: Rome's "Madonnelle" ("little Madonnas"). These are images of Mary—some of them miraculous—scattered throughout the streets and alleyways of the city. They are the object of much popular devotion. Follow the series here: Little Madonnas of Rome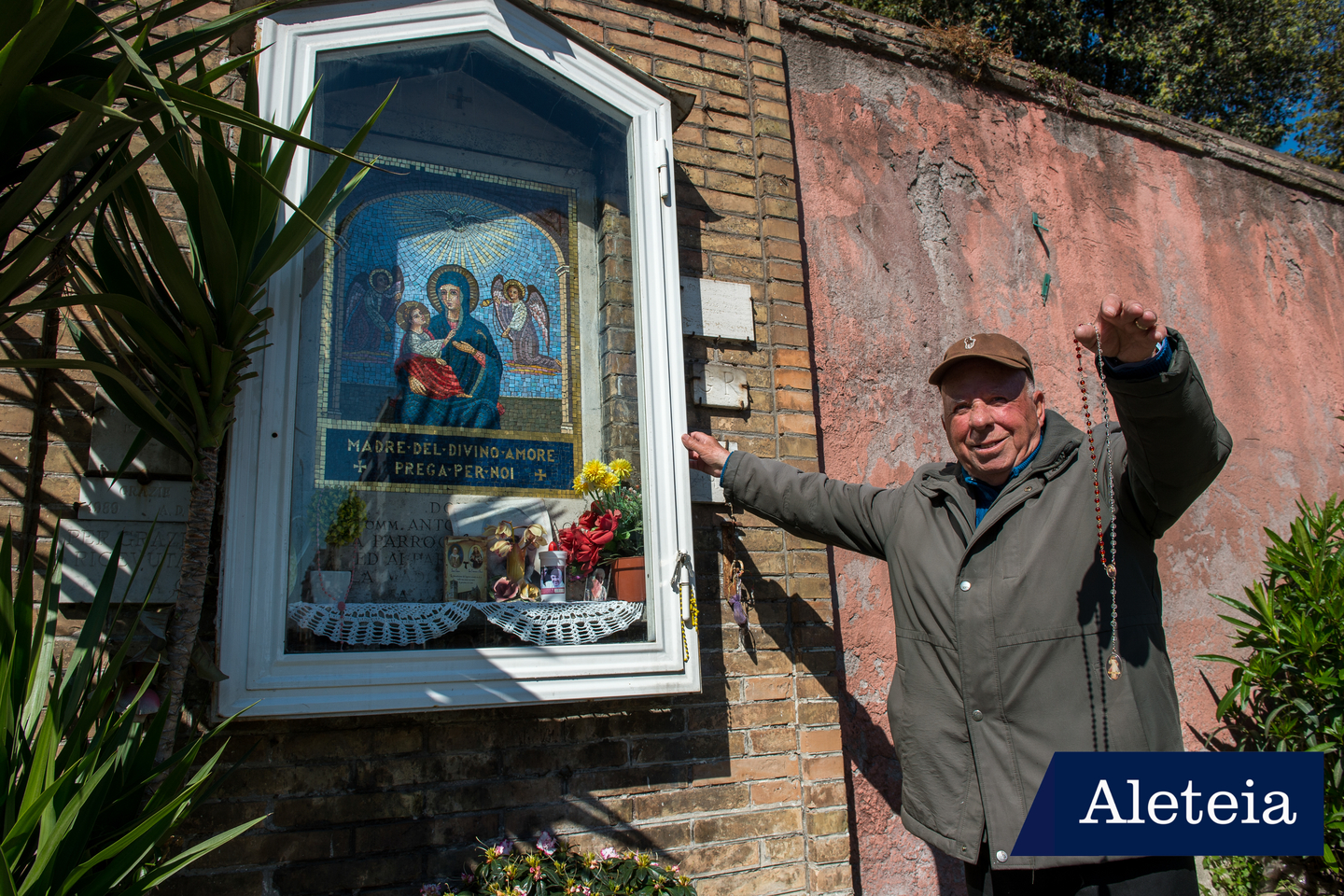 Mario is 78 years old. After traveling the world as a chef, he finally retired in Rome. Now, for nearly a decade, he has been working on a very special garden: a small plot of ground in front of the image of Our Lady of Divine Love, in Piazza Carpegna, a few kilometers from the Vatican and a stone's throw away from Via Aurelia. In a wall surrounding the local public park, overlooking a crossroads of intensely busy streets, we find this beautiful mosaic depicting the Madonna of Divine Love.
The little nook for Our Lady was built in 1956. In those years, shrines to Our Lady of Divine Love sprang up all over Rome, as signs of gratitude for her protection of the city during the Second World War. On a marble plaque we read: "Gift of Comm. Antonio Giampaoli to the parish of St. Pius V and the parishioners of Our Lady of Repose," with the date 1956 in roman numerals. The mosaic, embedded in the wall, is protected under a glass case. At the base of the image we read: "Mother of Divine Love, pray for us."
"I come here every day; I can't miss it," Mario says. "I feel bad if I skip a day." His words reveal a mixture of gratitude and devotion to Our Lady, who answered his prayers for his wife. A private man, Mario didn't want to recount the details, but since then he has served Our Lady with love and devotion.
Mario's only regret is seeing people walk by seemingly distracted or indifferent, and wondering who will take care of the image when he is gone. Every day around 9:30 a.m., you can find him here cleaning the small garden around the shrine, watering and arranging fresh flowers, and putting the lights in order. Every now and then he cleans the marble shelf inside the nook: his wife is the one who washes and irons the doilies he places under the mosaic.
~
Follow the series here: Little Madonnas of Rome
See more articles like this at Aleteia's Art & Travel section.