This volunteer job has an incredible number of surprising benefits, some even backed by studies.
Our indifference or cruelty towards fellow creatures of this world sooner or later affects the treatment we mete out to other human beings. We have only one heart, and the same wretchedness which leads us to mistreat an animal will not be long in showing itself in our relationships with other people. Every act of cruelty towards any creature is contrary to human dignity. — Pope Francis.
There is a term used by scientists called helper's high, which implies that selflessly doing something for someone else provides satisfaction and may even release endorphins and improve your health. Volunteering is one of the best ways to enjoy a helper's high — and walking shelter dogs has unique benefits you may never have considered.
Read more:
6 important steps in mourning the death of a beloved dog
Most dogs living in shelters have been through difficult life situations; some of them have been born on the streets or were abandoned by their owners, but there are others who've had an even rougher life, experiencing physical abuse and severe neglect. Even though they're safe now, these innocent animals need more than a roof over their heads, they also need affection.
Marci Horton, from Los Cabos Humane Society, an animal protection organization located in Cabo San Lucas, California, tells Aleteia that dogs have a natural internal instinct to roam. Walking for 30 minutes a minimum of two times each day satisfies this drive and allows them to feel more relaxed. She also says that dogs who've suffered abuse benefit from socialization and companionship with humans and other dogs.
Dog walking has become one of the most successful volunteer activities for shelters. Not only does it help in the psychological recovery of the animals and give them a better life in the shelters, volunteers are eager to participate. "We volunteers receive as much from the animals as they receive from our volunteer efforts," says Horton, who reports that people who sign up do it because they want to give back to the community and find dog walking useful and gratifying.
Studies have been conducted on the benefits of humane-dog interaction that show how spending time with a dog creates a shared feeling of affection and trust, without the threat of betrayal. A volunteer can come to see an animal as a kind of confidante.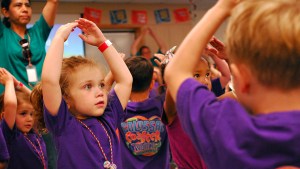 Read more:
Volunteering for Vacation Bible School? Here's a Catechist's Prayer
While shelter dogs are learning to trust humans again, people are learning to trust other people, too. Working in an environment in which strangers share concern about the well-being of innocent animals can change your vision of the world. By getting to know the dogs in the shelter you get to know the people there too, bonding and creating relationships based on goodness and compassion.
Some studies show that helping dogs is also likely to assist with human interactions. The relationship developed with a dog can quickly be transferred to another person, increasing empathy and diminishing aggression. Having regular contact with dogs  has been proven to be such a powerful social catalyst it's even been considered an alternative therapy for shy kids, and children with autism and schizophrenia.
"I realized that taking care of our environment is a responsibility we all have, and animals are a good first step," explains Kathia, a first time dog walking volunteer. "If you respect a dog, it's easier to respect a human, and to live in harmony with your society."
Walking a shelter dog can be healing, easing loneliness, since some people find it easier to interact with other people if a dog is involved. For others, merely interacting with a dog distracts them from their own problems, thereby reducing stress, anxiety, and depression.
Many volunteers report health benefits of walking shelter dogs. Horton says many volunteers have told her that they didn't use to exercise or take care of themselves, but caring about the dogs made them start walking which has had an impact on their physical and emotional health.
Read more:
6 Almost Immortal Animals
The "helper's high" is a reason many volunteers tend to keep going back. The get to know the animals, their behavior patterns and personalities. Many become further involved in fundraising or event planning for the shelters, and some go on to adopt dogs, which is the ultimate objective of the shelters — finding loving homes for the animals they serve.
"Ever since I started volunteering I realized it was making me a better person. I learned that I could be less selfish, and that I could give some of my time to those who are in need," says Karen who's been volunteering once a week on Sundays for almost a year. "Dogs, they don't get to choose the way they live, they're harmless and people can be really cruel. I can make their lives a little better if I give them some of my time."
Most people who are new at volunteering to walk dogs may feel a little unsure, but Horton says she's notices a payoff right away.
"[First time volunteers] always have a big smile on their faces. The joy they bring to the dogs taking them out on the trails is very contagious," says Horton. "They react with surprise at how fun and happy the experience is for them. It's the feeling they get afterwards, however, that makes the bigger impression."
Dog shelters recommend that volunteers go with an open mind and a positive attitude because many of the dogs they'll meet are not in the best condition. Here's how to get started…
8 Tips for becoming a shelter dog walker:
Think about the reasons you want to volunteer and consider that it's not just about having a good time.
Decide on a day you don't have other plans. You might end up staying there a little longer, learning about the dog you're assigned, and techniques on how to care for and take it for a walk.
Find your local shelter. You may find this website helpful.
Go with an open mind, but mostly an open heart.
Explain your concerns to the manager at the shelter, and share some aspects of your personality. It will help them find a dog you can connect with.
Be patient. Only some dogs are friendly at first, most are slower to trust and you may have to spend a little while convincing it that you are trustworthy.
Focus on the dog, its needs and desires. The walk is for him or her and being selfless is important at this point.
Have a good time!