"May the Holy Spirit heal the wounds of war and terrorism, which also last night in London struck innocent civilians."
VATICAN CITY — Pope Francis on Sunday prayed for the victims and families of Saturday evening's terrorist attack in London, the third attack Britain has suffered in three months.
Addressing faithful at the end of Holy Mass in St. Peter's Square, on the Solemnity of Pentecost, the pope prayed that the Holy Spirit "might grant peace to the entire world; and heal the wounds of war and terrorism, which also last night in London, struck innocent civilians."
"Let us pray for the victims and their families," Pope Francis said told the crowd.
Saturday's attack began at 10:00 pm, when three men driving a white van veered off the road and barreled into a crowd on London Bridge. The vehicle then headed to the nearby Borough Market where the three men, armed with blades and knives, attacked several passers-by before being shot and killed by police. At least 7 people were killed (in addition to the three suspects) and 48 injured. Many have life threatening conditions.
Pentecost Regina Caeli
Before reciting the Regina Caeli with faithful and pilgrims, Pope Francis also announced the publication of his message for the next World Mission Day in October. The 2017 message is called "Mission at the heart of the Christian faith."
"May the Holy Spirit sustain the mission of the Church in the world," the pope said, and "strengthen all missionaries of the Gospel."
Finally, the Holy Father welcomed the groups of the Catholic Charismatic Renewal who are in Rome from May 31 – June 4, celebrating the 50th anniversary of their founding. Pope Francis also welcomed all "brothers and sisters of other Christian denominations who are joining in our prayer."
On the evening of June 3rd, during Prayer Vigil at the Circus Maximus in Rome, Pope Francis encouraged the faithful to follow the path of unity. Some 50,000 people were present, among them Pentecostals and evangelicals.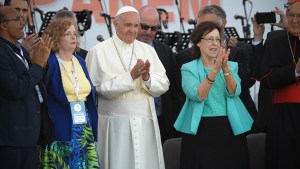 Read more:
Pentecost vigil and ecumenical prayer with Pope Francis, on the occasion of the Golden Jubilee of the Charismatic Renewal
"Let us now invoke the maternal intercession of the Virgin Mary," Pope Francis concluded before praying the traditional Marian prayer. "May she obtain for us the grace of being strongly animated by the Holy Spirit, in order to witness to Christ with Gospel boldness."
Read more:
Pope Francis' homily on Pentecost