The task might seem daunting, but these tips could hardly be easier.
What can God do in your life with one Bible verse a day?
Subscribe to Aleteia's new service and bring Scripture into your morning:
Just one verse each day.
Click to bring God's word to your inbox
Many of us who have received an otherwise solid formation as Catholics feel toward Sacred Scripture as St. Augustine felt toward the Lord himself: "Late have I loved thee."
That is to say, we have come to recognize the almost staggering gift we have in Scripture, the very Word of God addressed to humanity and to each of us personally. Naturally, we want to share this newfound love with our children. We want them to learn to listen to the words of Scripture and realize that God loves them and actually speaks to them.
And, naturally, our children are interested in Minecraft. Or Lego Ninjago. Or Nintendo Switch. Or pretty much anything else besides the Sacred Scriptures.
But don't despair. We're parents. Parents can win. If marriage is ordered to procreation, and if procreation in humans doesn't just mean making babies, but also educating those babies, then couples who have received the sacrament of marriage can count on God's help in this fight.
Here, then, are three simple ways to start winning, three ways to begin bringing the Scriptures into the lives of your children.
Decorate with the Scriptures. My apologies, but I had to say it in that weird sort of way at first in order to get your attention; I am not actually recommending DIY projects to make dining room chairs out of old Bibles. Rather, I am just suggesting that we take an intentional approach to the decorative aspects of our homes: since the family is meant to be the "domestic Church," it is appropriate for the artwork of our homes to be overtly religious and based in the Scriptures. In fact, such artwork—say, an icon of Christ's miracle at the wedding feast in Cana of Galilee—is no longer merely "decorative." While the artwork lends beauty to the home, it is also productive of understanding. It helps children to visualize a scene in Scripture, drawing their attention to some of its most significant aspects.
In a similar way, I have also been impressed with homes in which a verse of Sacred Scripture is elegantly painted on a wall. The practice suggests to children that these are not just words in some old book. These words are big and they are in a spot that cannot be missed: the conclusion is that they are important. These words become even more powerful in the lives of children when they are explicitly drawn upon by parents to provide insight at key moments of life: "Billy, what do we have written on the very wall of our house? That's right: Love is patient. Do we love grandpa enough to be patient with him?"
Entertain with the Scriptures. Children seem desperate for two things: entertainment and attention. Children crave these two things so much they will actually act out to get them. Their instinctual motto seems to be "any attention is good attention." But why not capitalize on these characteristics of children for the good? We can channel those desires in a wholesome way by reading some portion of the Scriptures out loud, as a family, every day. Honestly, children like to snuggle up and read so much that I sometimes think I could just read the instructional manual for the thermostat to my children and they would enjoy it. Surely God wired them that way (the kids, not the thermostats) precisely to make it easier for us as parents to impart important truths to them while they are still young.
Here's a variant that also works: go read the Bible out loud to your spouse. Ignore the children. "Could Mommy and Daddy be giving some sort of exclusive attention to each other?! We can't have that!" The children will be drawn like moths to a flame.
Finally, if you have a few families with children over for a get-together, consider reading a brief portion of the Scriptures from that day's liturgy. I saw this done once at a brunch, and the children were mesmerized. More importantly, the parents were emboldened to do likewise in their own homes: "See, Mommy and Daddy aren't crazy weirdos. Other people read the Bible out loud too!"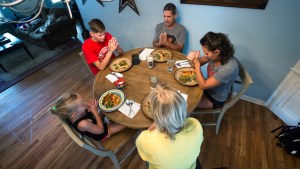 Read more:
6 Other ways of saying grace besides "Bless us, O Lord…"
Sing with the Scriptures. Did you know children like to sing? Yes you did. Make use of it. Pick a song or a hymn based in the words of the Scriptures (yes, that's nearly every hymn). Start singing it as a family. Maybe it can be part of your daily family prayer, or your family's way of making a morning offering. Maybe substitute it for the usual grace before the meal at some point, or sing it after your meal like Christ with his apostles at the Last Supper (c.f. Mark 14:26). Whatever you do, keep working on that one hymn until your children are pretty good at it, such that a child might be confident singing it to himself when his parents aren't even in the room; if you have done this, some small portion of the Bible has taken up residence in your child's heart.
Don't stop here. Rather, get ambitious and add to it: once the family has mastered one hymn, pick another and start expanding your family's repertoire. There is even an advanced option for music nerds: as a family, go look up the portion of the Sacred Scriptures from which the hymn (or really, for musical achievers like you, the motet) is drawn, and do a little analysis: what aspect of the sacred text does the work bring into sharper focus?
For example, notice how Thomas Tallis's motet "If ye love me" lingers over, again and again, the title given to the Holy Spirit by Christ in John 14:17: "the Spirit of Truth." It is just a little phrase, so easily missed, yet Tallis brings it to the fore so that you can be startled by it—as he evidently is.
I realize I have proposed only three practices, a list which is woefully incomplete. I'll leave it to you to add more practices in your comments. Since I am a philosopher, I will instead conclude with a principle: the good is diffusive of itself. That's a fancy way of saying that identifying particular practices, while important, is not the main thing.
The main thing is that we, the parents, have woven the Scriptures deeply into our own lives. If we do so, the treasury of Sacred Scripture will flow out into our families in clever and creative ways far beyond anything we might initially imagine.