Just being aware of them, and being able to name them, can help you battle them.
Cognitive Behavioral Therapy (CBT) techniques are used for phobias, depression, PTSD, bipolar disorder and everything in between. And you don't have to be mentally ill to benefit from CBT. One thing almost everyone struggles with, for example, is everyday insecurity, and it turns out that identifying what are called "cognitive distortions" can really boost your confidence.
CBT is based on the principle that thoughts cause feelings. So the first thing that CBT teaches is how to notice and name our harmful thoughts, so that the we won't be left to the mercy of feelings whose source we can't identify.
Read more:
How this prayer to Our Lady, Undoer of Knots, can set you free
These thoughts are called cognitive distortions (let's call the CBs for short!) because they present a distorted idea of reality. Just being aware of them, and being able to name them, reminds you that the thought isn't true, and makes it that much easier not to react to every passing thought as if it were fact.
So for example, say that your spouse doesn't respond to your greeting. You might think they're upset with you, and you'll understandably be hurt. That's a natural reaction — but of course, you might have misread their motives. If you don't catch that initial CD, it'll be a lot harder to break free of the feeling of hurt. But if you're in the habit of saying, "Oh, making assumptions about somebody's intentions is called 'mind reading,'" it'll be that much easier to shake off the feeling, and move on with your day.
Here are a few of the more common thoughts that might be contributing to your insecurity without you even knowing it. If you can learn to name and notice them, you're taking a huge step forward at freeing yourself from the lie the thought is telling you.
Mind reading
Mind reading is when you claim to know what's going on in another person's head. It's responsible for a lot of our insecurities. You think, "I know she said it was nice to see me, but she didn't mean it," or "He was quiet today; that's because he's still mad at me." It's fine to make guesses about other people's behavior, but it's way out of line to assume you know what anybody else is thinking. People are complicated.
Fortune telling
This kind of fortune telling is about predicting the worst possible outcome of any given scenario, especially those with an element of uncertainty. It can be crippling, especially if it's stopping you from trying anything new and from fear of failure.
Emotional reasoning
Emotions are an essential part of how we relate to the world, but they're not meant to have the last word. You're using emotional reasoning if your feelings are dictating your view of reality. If you have a terrible day, and then conclude that nobody loves you, or that the world is a terrible place, that's what you're doing.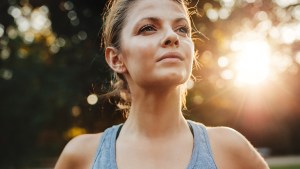 Read more:
Positive self-affirmations don't work, so try these confidence boosters instead
Labeling
Almost everyone does this. Labeling is when you define yourself or others in black and white terms. Everything from "I'm ugly," to "He's an unreasonable person" to "My husband is a living saint and can do no wrong" is a problem. It's fine to point out people's characteristics, but they shouldn't make up the whole picture of a person, including yourself.
Filtering
Filtering is similar to labeling, except we do it with situations, not people. This is when you only see the bad in a particular situation and refuse to see its nuances. It's important to acknowledge what's bad, but don't forget about the good that might be hidden there, either.
Unfair comparisons
These are especially insidious. You discount everything good and worthwhile about yourself by comparing yourself to somebody who seems better, and count it as proof that you're inadequate.
All of these thoughts, (and there are many more) lose their power the moment you bring them into the light of your consciousness. There, you can use your reason to address them, and they won't be able to hold you back. Name your hidden thoughts, point out the lies, and you'll be much more free to live the life you're supposed to live.