Lauren Wasser, model and amputee, is trying to raise awareness of the risks of tampons.
What can God do in your life with one Bible verse a day?
Subscribe to Aleteia's new service and bring Scripture into your morning:
Just one verse each day.
Click to bring God's word to your inbox
Can tampons be fatal? Sadly, the answer is yes. And unfortunately, we don't always know when toxic shock syndrome (TSS) will claim another victim. Today, more and more women are becoming aware of the risks associated with tampons, in part because of the heartbreaking stories of women whose lives were permanently changed — or ended — because of them.
Lauren Wasser, a 24-year-old athletic woman with a promising modeling career ahead of her, had to have a gangrenous leg amputated after developing simple flu-like symptoms. A few days earlier her mom, who'd just had surgery, grew anxious when she had no news of her daughter. So she asked police to go to Lauren's apartment and check up on her. They found Lauren face down on her bedroom floor with a fever of 105.8 degrees, organ failure, and a massive heart attack.
Read more:
Think the Pill is Safe? Think Again, Say Scientists
Rushed to the hospital, she was 10 minutes from death. When friends got wind of the popular model's condition, they set up a "pray for Lauren" page on Facebook and rushed to the hospital to say their goodbyes. Medical professionals were uncertain as to what was going on. Luckily, an infectious disease specialist discovered that she was wearing a tampon, and realized the model had gone into toxic shock. When she awoke heavily disoriented, she felt her body being pumped with 80 pounds of fluids. Black toxins had been flushed out from her, and she had horrible burning sensations in her hands and feet.
The infection had turned to gangrene. Her leg had to be amputated below the knee, and her life is full of daily pain and the looming possibility of losing her remaining foot.
Wasser has become an unofficial witness of the risks of tampon-induced toxic shock syndrome, especially now that there is a rise in the number of TSS-related deaths. She feels that the leading tampon manufacturers are not doing enough to warn women about the potential risk of tampon use. "The least I could do is to share my story and encourage girls to be careful," she said.
What exactly is toxic shock?
In 1980, TSS, became a nationally notifiable disease in the United States after a large number of cases had been noted. TSS is an infection caused by the release of dangerous bacteria in the blood — frequently the staph bacteria, or more precisely Staphylococcus aureus. It's a rare disorder that occurs more often in adults appearing in good health, and it can be fatal in just a few hours. Although it occurs in both sexes, it has been found predominantly in menstruating women using tampons. To be susceptible to TSS, you have to already have the staph bacteria present in your body. Unfortunately, about 20 percent of the general population carries those bacteria.
The disease is difficult to detect because it begins with flu-like symptoms. Blood flow decreases and the blood pressure drops, which can lead to a loss of consciousness, perhaps even a coma, and in the most critical cases, death. In these circumstances, the poisonous bacteria can attack the muscles, the kidneys, liver, heart, and the lungs.
As of 1983, 1,517 tampon-related cases of TSS had been reported to the CDC. Although the number of cases dropped over time, thanks to public awareness and changes in the feminine hygiene industry, there has been a spike in the number of cases recorded in recent years — perhaps due to a lack of awareness in the younger generations.
What are tampons made of, anyway?
Growing up, teens learned how tampons could enable them to swim, ride a horse, or wear tight clothing during their period — those commercials of smiling ladies actually made menstruation seem quite glamorous! But did we ever stop to think what was inside this cotton-like product?
Very few women are clear on the subject, even those who love to scrutinize the ingredients on all their beauty products. And for a good reason: it's impossible to know while out shopping. In fact it was the very absence of the product's ingredients on tampon boxes that first raised an alarm in France, resulting in nearly 260,000 women signing a petition for Tampax to reveal the composition of its tampons back in 2016. The industry responded, promising that consumers will soon be able to read this information on their boxes, and the Tampax website has been updated to include the mysterious materials. One thing is certain: they are full of synthetic fibers, and very far from natural. And this is something that Wasser also questions: she wonders why tampon manufacturers choose to use manmade materials instead of cotton.
Read more:
Francis' Laudato Si' Sparks Debate: Is Birth Control in Our Water Systems Causing Infertility, Gender Issues?
In fact, a study by the Yale Journal of Biology and Medicine in 1980, found that"the gelled carboxymethylcellulose" used in Rely tampons "acted like agar in a petri dish, providing a viscous medium on which the bacteria could grow." So the synthetic fibers that a lot of the tampon companies use for better absorbency actually creates the ideal breeding ground for the dangerous germs. Meanwhile, Dr. Philip M. Tierno, a professor of microbiology and pathology at the NYU School of Medicine found that "100 percent cotton tampons provide the lowest risk, if any risk at all."
It is also good to know that the dioxin in certain tampons could also be behind some cases of endometriosis.
What are the alternatives?
Wasser herself is not looking to eradicate the product from the feminine hygiene market. She wants more transparency and better guidance. Those who wish to keep using tampons must use the less absorbent variety and change them more regularly (in other words, do not use a more absorbent variety to avoid changing your tampon more often). She also believes that they shouldn't be worn at night as some women, especially adolescents, may sleep longer than the recommended eight hours for maximum usage.
It's clear that more and more women are searching for information about TSS on websites and forums. As a result, some are abandoning the tampon in fear of contracting the potentially deadly disease. Lou, who buys washable hygienic towels, explains that "they're perfectly ecological, and cleaning them is much simpler than you'd think." Aude, a bit of an explorer, has been influenced by her pocketbook: "A menstrual cup costs the price of a two month supply of tampons. It's a done deal!" And the cup has become a bit of a hit among the 30-somethings and under. Although less familiar among the older generations, it might soon become their go-to option.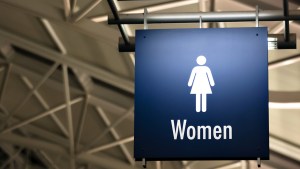 Read more:
Tired of tampons and pads? Menstrual cups are an increasingly popular alternative
While the actual cause of toxic shock syndrome is still unclear, there must be true transparency about what tampons are made of, and more awareness of potential issues. Serious scientific studies on the connection between TSS and tampon usage are still needed … as well as more women like Lauren Wasser, who are willing to speak out and share their stories to help others.