These recreational adult getaways prove you're never too old for camp.
Need an idea for Lenten almsgiving?
Help us spread faith on the internet. Would you consider donating just $10, so we can continue creating free, uplifting content?
Make a Lenten donation here
Summer camps aren't just for kids anymore. More than 1 million adults in the United States have recently participated in this growing trend, with some camps receiving more than 10,000 adult guests per year. It's the perfectly unique summer getaway you've been looking for to de-stress, and recapture your youth.
Just imagine a place where you are guaranteed to get your fill of s'mores, ropes courses and water balloon fights. A place where meeting new people and forging new friendships is a thousand times easier, because you both happened to be assigned to the same canoe. (And many of us in our 30s crave those new friendship-making opportunities, as most adults begin to lose friends by the age of 25, not gain them.) A place where you can sing aloud, tell ghost stories, and learn a new craft or sport, like pottery or archery.
Read more:
2 Short prayers for a long summer vacation
So this summer, grab your girlfriends or your hubby, send the kids to grandma-and-grandpa's house, and take the great outdoors for a test-drive by trying one of these adults-only camps. Trust us, you'll feel wonderful after a weekend of pure, childish fun.
Camp No Counselors
Various Locations, $525–$599, Camp No Counselors
Started through a venture on Shark Tank, Camp No Counselors is an adult summer camp with 10 locations in the United States and Canada (Toronto), so you're bound to find one near you. From coast to coast, this camp offers all-inclusive weekend getaways perfect to recharge, escape, tune out from technology and have a grand old time. They also offer group rates so if you already have a tightly-knit crew, sign up together and keep the bonds of friendship strong with a summer trip you'll never forget.
Camp Grounded
Anderson Valley, California, $595, Camp Grounded
At this camp, talking about work is strictly prohibited, so if you need a break from the daily grind, look no further than Camp Grounded. In addition to not being able to mention your J-O-B, the camp creates added mystery and fun by not allowing campers to use their real names. The idea is that by creating a new identity, the camp is giving you the freedom to tap into a new version of yourself, or just sit back and relax for a weekend without worrying about your real life. With activities as far flung as "Ukulele 101," everything you do is up to you, but the camp encourages everyone who attends to try at least one new activity. Another wonderful thing about this particular camp is that they offer low-income and scholarship tickets based on need, so everyone can enjoy a getaway, regardless of their income. Sessions are typically held in May and fill up fast, so make sure you bookmark them for 2018.
Camp Bonfire
Lake Owego Camp, 1687 US-6, Greeley, PA, 18425, $399–$500, Camp Bonfire
Located in Pennsylvania, only 2.5 hours outside of New York City, this all-inclusive escape right off of Lake Owego is perfect for anyone looking to escape northeastern urban life. The camp organizes a coach bus from Philadelphia and New York, but if you want to road-trip down with your buddies they also offer weekend parking. Focused on providing the traditional camp experience, Camp Bonfire is the place to be if you want a nostalgic weekend jam packed with your favorite childhood activities: canoeing, a rock climbing wall and archery, just to name a few of the camp's vast offerings. A few spots are still open for the September session.
Club Getaway
Berkshire Mountains, Kent, Connecticut, $314–524 (rates depend on the weekend), Club Getaway
Celebrating their 40th anniversary this year, Club Getaway has options for kids, families and adult-exclusive weekends. So rather than putting your kids on the bus to summer camp, why not go with them? Offering everything from tennis to mixology, this summer camp even offers corporate and wedding packages. A perfect place to mingle and relax while spending quality time outdoors, Club Getaway's 300-acre property is sure to give you a weekend filled with sports and family fun.
Camp Throwback
Camp Graham, Clarksville, Ohio, $250, Camp Throwback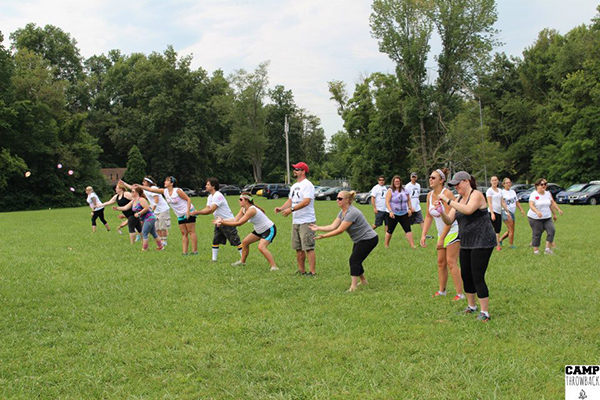 The most economically friendly option on our list, Camp Throwback is for the camper who wants to let loose, dance, and connect with nature all at the same time. Especially appealing for fans of the Netflix show Wet Hot American Summer, Camp Throwback includes a large mess hall fully equipped with childhood food favorites, '70s dance parties, and three-legged races for campers. If your getaway-goal is to reminisce, this is the spot that can't be missed. It's sold out for this year, but consider it for 2018.