Ideas on finding nutrient-dense breakfast foods for busy school mornings that our kids will actually eat.
What can God do in your life with one Bible verse a day?
Subscribe to Aleteia's new service and bring Scripture into your morning:
Just one verse each day.
Click to bring God's word to your inbox
When I only had 3 kids, I read Sally Fallon's Nourishing Traditions. In the process I learned a ton about food preparation and nutrition, and imbibed a heaping dose of sanctimony — particularly about cereal for breakfast.
Read more:
Breakfast and exercise: Which one comes first?
I boldly expressed my horror at the mothers who fed their kids cereal every morning. "It's not even food, it's processed sugar!" I would shriek at my husband. "I care about my kids enough to make them eggs every morning."
Yeah. If it were possible to eat my own words, I'd never have to buy groceries again.
With five kids and early school days, cereal has replaced eggs as our breakfast staple. I try to stick with low-sugar options like Kix or Rice Crispies, but there's no getting around the fact that even cereals with low sugar don't provide much in the way of nutritional value. In fact, most American breakfasts are little more than repackaged desserts, as researcher and author Alan Levinovitz recently reminded the Twitterverse.
[protected-iframe id="493c9e7331f18ebba088e0b1a2859523-95521100-74303997″ info="//platform.twitter.com/widgets.js" class="twitter-tweet"]
Vox featured the tweet at the beginning of their article breaking down the nutritional content of American breakfast food, starting with the decadent options at breakfast chains like IHOP. Granted, no one who orders chocolate chip pancakes is really going to be surprised to find that they're eating dessert dressed up as breakfast — but someone who starts their morning with yogurt and granola might be.
And yogurt? The fermented dairy product has the patina of a health food, thanks to its protein and beneficial bacteria. Yet companies like Yoplait and Chobani have built yogurt empires in America by saturating their products with sugar. Yoplait recently lowered the sugar in its classic 6-ounce strawberry yogurt from 26 grams to 18 grams (4.5 teaspoons), but that's still more than the 15 grams you'll get in a standard brownie. And if you believe granola is any healthier, think again.
Most nutritionists frown upon granola because — like cereal — it's deceptively high in sugar. But granola also packs a lot of calories into a tiny package; most brands average 200 calories for a 1/4 to 1/2 cup serving. And most people eat more than 4 measly tablespoons.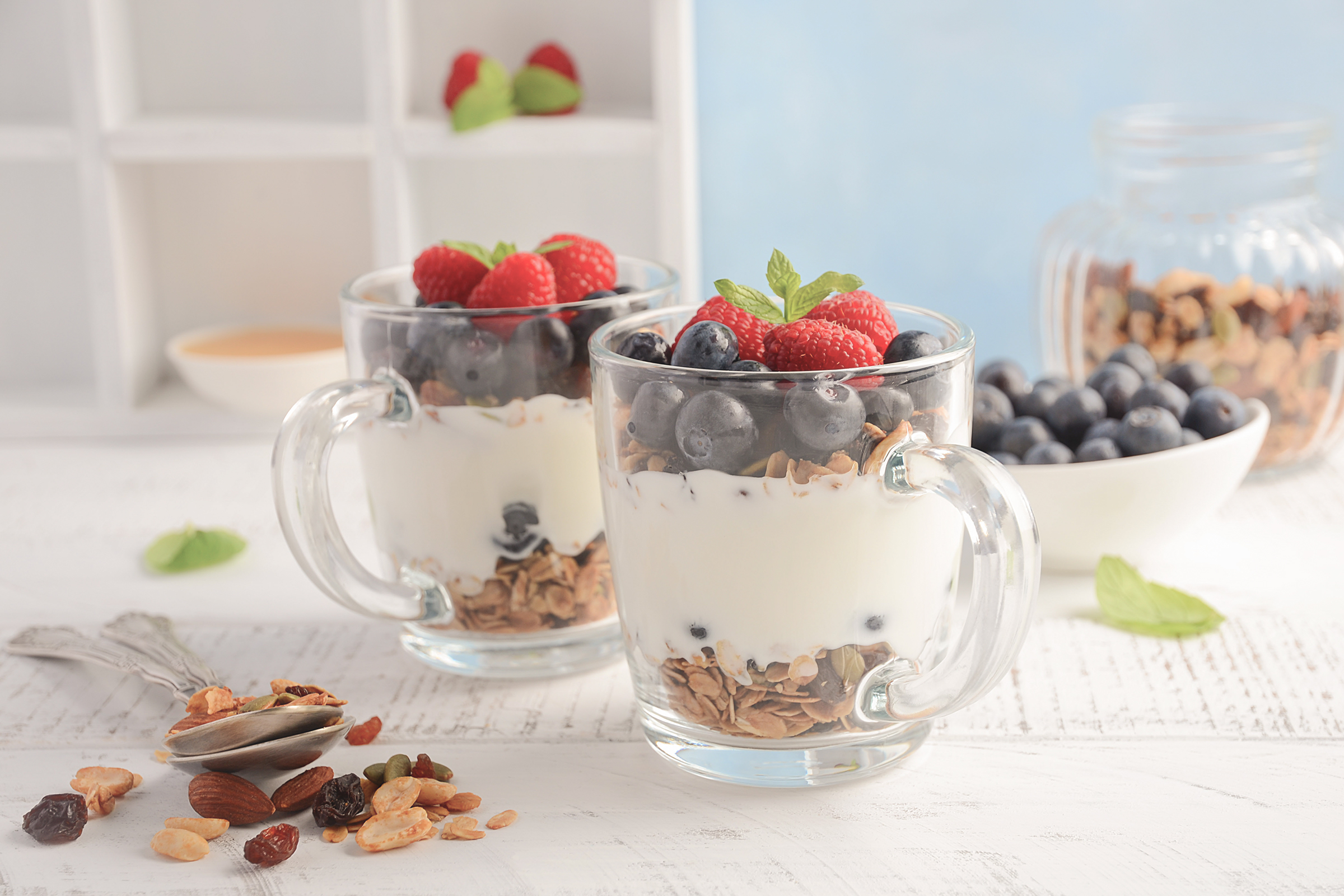 But here's the thing about packaged breakfast foods: they're easy and quick, and kids like them. On rushed school mornings, the necessity of getting out the door often takes priority over a balanced breakfast because, as it turns out,  teachers don't accept "I was late because my mom insisted on making me eggs" as an excuse. Ask me how I know.
So what's a mom to do? What we always have to do … plan ahead.
Sometimes I make breakfast burritos on the weekend, wrap them in foil, freeze them individually, and then throw them in the oven the second I wake up. By the time the kids are dressed and ready for school they've got a hot and hearty breakfast. Bonus: breakfast burritos are portable and can be eaten on the go.
But not all my kids like breakfast burritos. For those kids, I'll occasionally make overnight baked oatmeal. It's comforting, filling, and sweetened with maple syrup instead of sugar … but it has the disadvantage of a long cook time, which isn't always possible.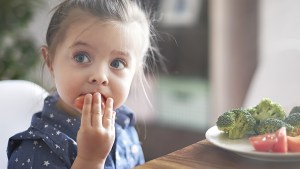 Read more:
3 Ways to help kids eat healthy foods
The thing is, time is never on my side in the morning. And while there are better packaged options, like Siggi's yogurt or Ezekiel's Sprouted Granola, my kids tend to find them unpalatable. So instead of trying to find healthy ways to create a fixed idea of "breakfast," this summer I expanded the definition of breakfast to include leftovers, or sandwiches, or coconut rice.
This has worked out pretty well for us. Instead of wolfing down second (or third!) bowls of sugary cereal, my kids create their own breakfasts from what's available. For one, it's usually cinnamon apples with peanut butter; for another, the aforementioned coconut rice. One of them loves vegetable soup and will happily eat it for both breakfast and dinner. The advantage of this approach is that they're not only getting a more nutritionally sound breakfast, they're making it themselves (the disadvantage is the mess they make in the process, but they're learning).
I think the biggest problem with American breakfast is our narrow definition of what constitutes "breakfast" in the first place. Redefining breakfast food to include soup, rice, or stir-fry throws open the doors to a whole new world of creative — and nutritional — possibilities.