By keeping death "daily before one's eyes," life is made better.
Someday you will die.
I'll write that again, since you are reading online and most likely are distracted.
Someday you will die.
How might your life be different if every day you reminded yourself of this fact?
There's no avoiding the reality of your impending death. Unless Jesus comes again during your lifetime, you will die. Whether suddenly and tragically or peacefully at the end of a long life, you will eventually close your eyes, never to reopen them.
Focusing on your death may seem morbid, unhealthy, disturbing, and perhaps even diabolical. And in some cases it can become so. Death in itself is an evil. Saint Augustine wrote that death is "the very violence with which body and soul are wrenched asunder." But Jesus has changed the nature of death for those who believe. Before becoming pope, then-Cardinal Joseph Ratzinger once wrote: "The sting of death is extinguished in Christ."
A long-standing Christian tradition recognizes the powerful spiritual value in remembering one's death in order to live well. The Rule of Saint Benedict, written in the 6th century, includes the imperative to "keep death daily before one's eyes." As the Catechism points out, both Scripture and the teachings of the Church remind us of "the responsibility incumbent upon man to make use of his freedom in view of his eternal destiny" (1036, emphasis mine).
The practice of remembering that you will die helps you to keep in mind that your life will end, and that it has a goal: heaven.
Visual reminders — often called memento mori, the Latin phrase for "Remember that you will die" — are one way we can keep our impending death in mind. Saints Jerome, Aloysius, and Mary Magdalene, among others, are often depicted in classic paintings with skulls. Saint Francis of Assisi once signed a blessing to Brother Leo with the tau cross and a small drawing of a skull. Pope Alexander VII commissioned Italian artist Bernini to make a coffin that he kept in his bedroom along with a marble skull for his desk to remind him of the brevity of life. Blessed James Alberione, the founder of the Daughters of Saint Paul, also kept a skull on his desk.
Inspired by this Christian tradition of memento mori, I recently acquired a ceramic skull for my desk. I have been chronicling my spiritual journey for over a month on Twitter. And it has changed my life.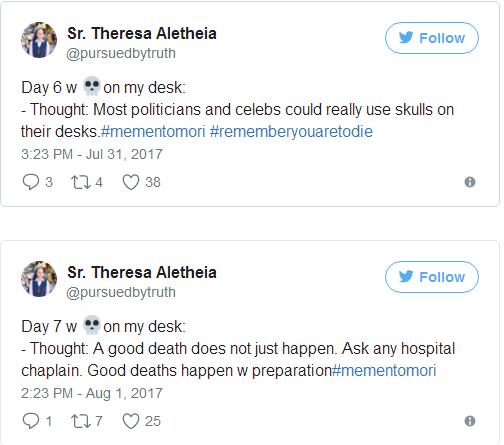 From humorous anecdotes to more serious meditations, keeping my death before me has put other things in my life in perspective. It has helped me to remember that one day I will die, yes. But more than that, this practice has kept Christ before me.
The skull on my desk reminds me every day that I will die and that my Savior has transformed death into a doorway to new life.
So, get a skull for your desk!
And if anyone asks questions, tell them a nun made you do it.