Faith-filled friendships can be a treasure, but they don't just happen; we need to pursue them deliberately.
You can get Aleteia inspiration and news in your inbox. Our specially curated newsletter is sent each morning. The best part? It's free.
Sign up here
With their first book, Divine Mercy for Moms, Michele Faehnle and Emily Jaminet draw upon their own experiences to introduce busy mothers to St. Faustina and the five essential elements of her message of Divine Mercy. The book meant to communicate that mercy is not just a gift to be received in the confessional but a spiritual resource that strengthens those who extend themselves in word, deed, and prayer — like moms.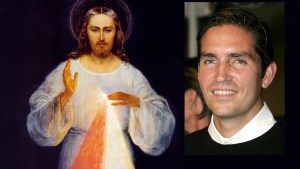 Read more:
New documentary shows impact the Divine Mercy devotion has on people's lives
The team is back with a new book, one that is as effusive as its title: The Friendship Project: A Catholic Women's Guide to Making and Keeping Fabulous Faith-Filled Friends. Here Faehnle and Jaminet explore the cardinal and theological virtues with an eye toward friendship. Focusing on faith, hope, love, prudence, gratitude, loyalty, generosity, and more, they posit thoughtful questions: "What does it mean to be women of hope? How does that change our lives and make us more compassionate friends in difficult times?"
In answering these questions and more, Faehnle and Jaminet relate stories of their own friendships and also those from the lives of saints and biblical women–including the Blessed Virgin Mary and St. Elizabeth, St. Therese of Lisieux and her sister Servant of God Leonie, and Sts. Perpetua and Felicity.
Emily Jaminet was able to give Aleteia a "fast take" on the book.
What inspired this effort?
I wanted to help women develop and deepen Catholic faith-filled friendships. One reason why Michele, my coauthor, and I wrote this book together is to help the reader gain a new perspective on how our friendships can either help or hurt our love for Christ. We not only share personal stories of our friends but about how some of the female saints had best friends to encourage them to grow in their faith. We also look at some important virtues to cultivate in our own life.
What story or anecdote (or piece of advice) in this book most personally resonated with you?
How faith-filled friends can help you become more healthy, happy and holy. At different stages of my life I have been like many women and put friendship on the back burner, and by doing so, I have missed out on the joy and support that can come from awesome friends. Now despite how busy I am, I choose to slow down my life to develop meaningful friendships which are leading me closer to Christ. All of our stories work to that end.
Did writing this book teach you anything?
Yes! I've learned that we must be deliberate in developing faith-filled friendships. It has also shown me that despite all the friends I might have on social media, one face-to-face conversation is priceless. I can fall victim to too much screen time, so I have to remember to put my screens down and invest in my relationships.
If there is one person you want to reach with this book, who would that be?
The shy and the lonely. As an extrovert, my heart goes out to people who struggle with developing friendships and I want them to know that with a few small steps they, too, can have great Catholic friends. Michele and I receive letters and comments on social media from people who have said, "I long for good Catholic friends." Friendship is a tool to help us to become better people and even grow in holiness.
What is the ideal beverage to have in hand while reading your book?
Spiked Seltzer. Michele and I are seltzer drinkers and if one of us runs out, the other will bring some over to their house. Earlier this summer my brother introduced us to Spiked Seltzer at a party and we both loved it.  This low-calorie, low-sugar, flavored-water drink with alcohol in it made us instant fans. We wrote the book to be used in a faith-sharing group, so hopefully, a small group would love to read this book, try a Truly beverage and use the free resources we have provided at www.TheFriendshipProjectBook.com.