You don't need a spouse or children to benefit from the rich celebrations and events in the life of the Church.
What can God do in your life with one Bible verse a day?
Subscribe to Aleteia's new service and bring Scripture into your morning:
Just one verse each day.
Click to bring God's word to your inbox
If you're like me, you notice when the priest wears a different color for certain seasons of the Church year — green for Ordinary Time, rose for the third week in Advent (although my parish priest swore it was salmon), and red on Good Friday. As a Catholic, I knew what Ordinary Time meant and I loved the extra celebratory tone that the Masses on feast days took, but other than that, I never knew how to incorporate the liturgical year — with its saints' days, holy days, and special celebrations — into my daily life.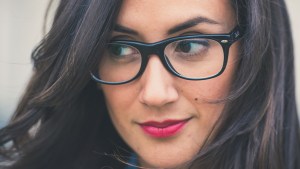 Read more:
Can a Catholic be a feminist? Here's why John Paul II thought so
On top of that, there are so many feast days that the Church celebrates; when you look at the Church's liturgical calendar, it can seem like a lot to incorporate into your daily schedule. To make matters even more complicated, if you do a quick search for advice on how to live out the  liturgical calendar, you're likely to be greeted by adorable toddler crafts and ideas for parents. While cute cotton ball lambs and Sacred Heart shaped cakes are wonderful in their own way, it seems like most of what's out there is directed towards families with little kids. So if you're single and most of your celebrations are a party of one, liturgical living tips in books and mom blogs may not be so appealing. Where do single adult Catholics fit in? And how do those of us without kids celebrate the beauty of the liturgical calendar as adults?
Here are are five easy and accessible ways to enrich your faith by incorporating the liturgical year into your life as a single Catholic:
1. Do the little things
Celebrating the liturgical year doesn't mean you have to drastically change your daily life. There are a lot of great resources for recipes that compliment the celebration of a feast day, such as making a pasta dish for Italian Saint Maria Goretti's feast day or hot cross buns on Good Friday.
Read more:
Single and Catholic
But if cooking isn't part of your daily schedule or something you enjoy doing, you can make small adjustments to your daily routine that makes liturgical living easier: Is it the feast of the Korean martyrs? Get some Korean take out. Happen to be going out with friends on the feast day of Saint John Vianney, the French patron saint of priests? Ask your parish priest to come along with you and order a bottle of French wine. Want to  acknowledge the feast day of Saint Gianna Beretta Molla, the patron saint of mothers, physicians, and unborn children, in your schedule? That week, make a donation to a local crisis pregnancy center. Living liturgically doesn't have to be complicated and can be tailored to your interests and hobbies.
2. Build a domestic church
Our homes (or dorm rooms or apartments!) can be places to learn about God and deepen our spiritual lives. When you move into a new place, invite your friends over to celebrate and ask your parish priest to come by and bless your home. You can also hang up a crucifix across from your bed so it's the first thing you see in the morning when you wake up and the last thing you see before you fall asleep at night. Or tuck a saint card of your patron saint into your purse or wallet so you can remember to ask for their intercession throughout the day as you run errands or pay bills. You could even put a small holy water font by your front door so that every time you leave the house, you can remember to bless yourself and celebrate the day God has blessed you with.
3. Celebrate Sundays
Every Sunday offers a chance for liturgical living. Join a parish in your nearby area and make it a point to not miss Mass on Sundays, even if you're on vacation. Check out this website to find a Mass near you.
Prepare intentionally for Sunday Mass by reading the Scripture readings before you get to church that day. Reflect on how Christ wants to speak to you through His words.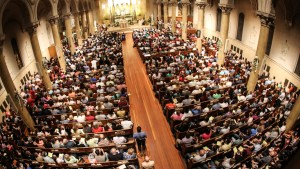 Read more:
Why is Sunday Mass celebrated on Saturday Evening?
You can also celebrate Sundays by intentionally resting. Do your grocery shopping and errands earlier on in the week so you can spend Sundays  rejuvenating yourself for the work week to come.
4. Hang a liturgical calendar 
Parishes often offer free calendars at the start of the year and on them are all the important feast days and holy days. But if you want to start incorporating liturgical living into your life right away, you can also purchase calendars online, like this one from etsy. Look ahead on the calendar to see if your patron saint's feast day is coming up this month and plan out a special way to celebrate their big day.
Having a daily reminder of the life of the Church is a great way to become aware of the ebb and flow of the Church year.
5. Create community
Celebrating the liturgical year when you're single can be a challenge. After all, why put out your shoes for Saint Nicholas's feast day when you know no one's going to fill them with little treats?
Liturgical living isn't meant to be done alone all the time. Invite your friends to celebrate with you. Do you have roommates? Neighbors? Ask them if they'd like to make dinner together during feast days. Or go with a group of friends to the Easter Vigil Mass (they can tap you when you fall asleep!) and then celebrate the joy of Easter afterwards with an early-morning pancake breakfast.
The Church is meant to be a community, and we can celebrate the beauty of the Christian life on our own and with those around us. if you're struggling to find community in your area, ask your diocese if they have any adult ministry programs you can get involved with, or start a small community with close friends around you. By tapping into the beauty of the Church's liturgical year, you'll grow closer to God and to the Church.