Some smartphone alternatives to passing time while you wait for trains, kids, or lunch
How much time do you think you lose waiting throughout the day? If you take into account waiting for the train, lining up for food at lunchtime, or even waiting for the traffic light to turn green, all these minutes soon add up. While we're biding our time, our first instinct is usually to grab our smartphones and check what's been going on in our virtual social lives, or try and beat our latest Candy Crush record. Staggeringly, "According to comScore's 2017 Cross Platform Future in Focus report, the average American adult (18+) spends 2 hours, 51 minutes on their smartphone every day" — that's nearly a fifth of a potentially productive day, and over 1,000 hours a year! As you can imagine, this figure is even higher among college-aged adults.
Read more:
How many books could you read if you gave up (just a bit) on social media?
Surely there is something a little more rewarding we could be doing with this time? It's not a question of using it to achieve a certain goal; sometimes, waiting gives us the chance to catch our breath and see what's going on around us. But what if we ditched our phone — or just left it in our pocket or bag — and thought about how we could make the most of those "wasted minutes," using them to our advantage?
Reach out to your neighbor
Waiting around gives us the perfect opportunity to build social ties, which — as the Greek philosopher Aristotle claimed — can only be beneficial. Contrary to individualist ideologies, Aristotle pointed out that man is a social animal, and that life in society allows us to flourish: "Without friends, no one would want to live, even if he had all other goods" (Nicomachean Ethics). Aristotle based his theory on the fact that man is the only animal who speaks in a reasoned manner, and that "nature does nothing in vain!" So, he concludes, this should encourage us to use our language skills to make contact with others, just as nature intended.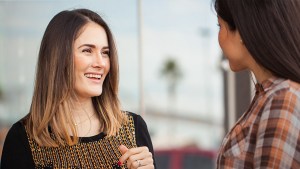 Read more:
6 'Small talk' tips to help you connect with others
And it's not hard, either. Being stuck in line gives us the perfect opportunity to chat with a neighbor, smile at a passerby, or be more attentive to those around us. Instead of burying our heads in our phones, we could talk to a young mom trying to manage her baby, or spend time listening to an elderly person whose only interactions might come from strangers in the checkout line. A recent story about a young girl befriending an elderly widower in the supermarket made our hearts melt; a few simple words led to a lasting friendship, and a new family for a man whose life had lost all meaning since the death of his beloved wife.
Relax your brain
Engaging in a hobby while waiting is always a possibility. Having a book at the ready to dip into whenever time allows is a perfect way to pass the time. If you're not a bookworm, you could try a bit of knitting, color in a mandala, or even get a sketch pad out. These activities are easy to pull out and put away quickly, and are the perfect distraction for relaxing your mind. If you are in to deep breathing exercises, your spare minutes could be used to concentrate on taking slow deep breaths and relaxing – a great stress reliever.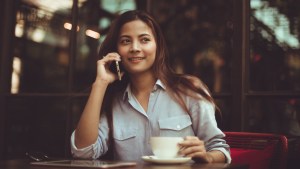 Read more:
5 Old-fashioned habits worth resurrecting in a fast-paced world
Learn something new
If you have an inquiring mind and you spend a substantial amount of time stuck in traffic jams, then use this time to learn something new. There are many learning tools out there that allow you to pick up a language, such as CDs and podcasts, or you could buy an audio book of one of your favorite novels. If you really want a challenge, you could use this time to do something like learning all of Shakespeare's sonnets by heart — perfect for working on your memory! Being stuck in the car is also the perfect opportunity to catch a good radio show or listen to a podcast; you can find everything from basic news to programs that feature literature, people telling stories of their own lives, discussions of pop culture, and more. You can also find many faith-based radio stations and podcasts that discuss interesting topics, from catechesis to inspirational stories and lifestyle tips.
Read more:
Haven't read Moby Dick? Now you can hear Stephen Fry, Tilda Swinton and more reading it to you
Turn your thoughts to heaven
Obviously, the easiest way to pass this time — one that doesn't cost a single cent — is to fill your thoughts with the presence of God. Say a prayer that you know by heart (or make one up to suit your worries or hopes), thank God, and confide your intentions to Him. Leaving a place for God in your daily life will help you feel His presence and discover the fruitfulness of prayer.
In his letters, Saint Paul puts particular emphasis on praying continuously, wherever you may be. He wrote to Timothy: "Therefore I want the men in every place to pray, lifting up holy hands, without wrath and dissension" (Timothy 2:8). In his letter to the Thessalonians he recommends: "Always be joyful. Never stop praying. Be thankful in all circumstances, for this is God's will for you who belong to Christ Jesus." (Thessalonians 5:16-18). And to the Ephesians: "With all prayer and petition pray at all times in the Spirit, and with this in view, be on the alert with all perseverance and petition for all the saints" (Ephesians 6, 18).
So, while you're on "standby" mode, forget Facebook and use your time to pray for yourself, for your loved ones, and for the salvation of the world.
This article was originally published in the French edition of Aleteia, and has been translated and/or adapted here for English-speaking readers.