St. Romedio can help turn your unfortunate circumstance into something positive.
Do unfortunate and unexpected things keep on happening in your life? St. Romedio is here to help.
St. Romedio lived during the 4th century and was an heir in a wealthy family near Innsbruck, Austria. Romedio felt called to give up his many possessions and lead a life dedicated to God.
Leaving his inheritance behind, he journeyed to Italy. But a very unfortunate situation occurred — which was quickly turned into a positive.
Pope John Paul I narrates the humorous story in a collection of his letters called Illustrissimi.
According to the legend, when he was on his way back from a pilgrimage to Rome, Romedio stopped to rest with his two faithful companions, Abraham and David. After a while he said to David: "It's time to get back onto the road. Go and fetch our horses in the field." David went off, then came back terrified: a bear was eating Romedio's horse. Romedio rushed into the field, saw what was happening, and said quite calmly … "Bear. Obviously you're hungry as you're eating my horse. That's all very well, but I can't walk home, you know, so you'll have to be my horse." And he put the saddle, bridle and reins of the horse [the bear] had eaten on [the bear] … climbed on to [his] back as if [the bear was] the most peaceable mule in the world, and set off in the direction of Trento.
At the end of the story John Paul I left this short little prayer.
Tame me, Lord! Make me more helpful and less of a bear.
Sometimes accidents happen, and we are tempted to see them in the worst possible light. We respond to the unfortunate incident by acting like a bear, whether it be in a burst of anger or a moment of helpless despair. We forget that in God's mercy and power, all things can work for good.
Thankfully, God can help us in our many accidents of life and turn them right side up. We just have to stop being a bear and let God tame us and our hearts.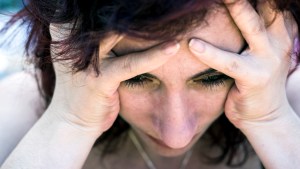 Read more:
Suffer from headaches? Here's a patron saint for you