Jazz up this typical lunch item with healthy seasonal ingredients.
If you're a mom, you've probably made tuna fish sandwiches roughly, say, five million times. It's a quick classic, almost like a mom-short-cut, but you probably aren't that thrilled by the prospect of eating one anymore (even if your kids are). That's all about to change: these delightful little bundles will make you excited to taste tuna again.
So, sure, pack those crustless mayo-tuna sandwich squares for the kids' lunches, but then upgrade your own with this deliciously adult version: the fall combination of hearty apples, beets and goat cheese blend inside your healthy tortilla for a creamy crunch, sure to satisfy your noontime hunger pang.
Pro tip: Wrap your wrap in colorful paper before heading out the door, not just to contain any mess, but to give yourself something cheery to look forward to later in the day. Your lunch will feel like a special little gift, just for you.
Autumn tuna wraps
Serves: 4 tortillas (2 people)
Preparation time: 10 minutes
Cooking time: 30 minutes to bake the beetroots
Difficulty: easy
Ingredients:
4 large whole wheat tortillas
2 beetroots
1 avocado
3½ oz of creamy goat cheese
2 apples
1 can tuna (5 oz)
1 small red onion
2 handfuls of kale sprouts
your favorite fresh herbs—we use basil and oregano
salt and pepper
Method:
1. Preheat oven to 400 F.
2. Wash the beetroots and wrap each one in foil. Bake for 30 minutes and let them cool down.
3. Slice the apples, the peeled beetroots and the onion.
4. Mix the avocado and goat cheese in a food processor until very smooth
5. Lay out a large piece of wax paper and place whole wheat tortilla on top.
6. Spread avocado dip on half of the tortilla. Then place kale sprouts, apples, beetroot, onion, tuna, fresh herbs on top and season with salt and pepper.
7. Roll everything into a wrap, then firmly roll wax paper around the wrap, forming pockets at top and bottom, and secure with either adhesive tape or a string. Repeat with the other tortillas.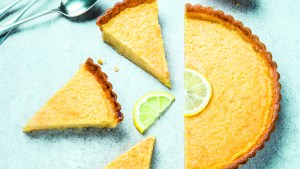 Read more:
The perfect low-fat lemon pie recipe
Inspired by: Green Healthy Cooking