Here are 3 ways to be gentler with yourself while making room for imperfection.
Compassion is a virtue that most of us desire in our lives. After all, following the golden rule and treating others as we want to be treated lies at the heart of the Christian faith. But how often do we extend compassion to ourselves?
Dr. Melanie Greenberg, a practicing psychologist and executive coach, is outlining a brand new approach to shrinking stress in our daily lives — and it doesn't involve quitting our jobs, moving to a beach home, or doing yoga. In her new book, The Stress-Proof Brain: Master Your Emotional Response to Stress Using Mindfulness and Neuroplasticity, Dr. Greenberg suggests that the biggest game changer in reducing stress is self-compassion. Instead of beating ourselves up or using stress as a motivator, practicing self-compassion allows us to be kinder to ourselves. "Self compassion also has a component of mindful self-awareness, in which you acknowledge your own emotions, but don't get over-identified with them or use them as excuses not to meet your goals," Dr. Greenberg writes.
By being gentler with ourselves and giving ourselves room for imperfection and growth, we'll be better equipped to tackle stressful situations that are bound to pop up in our everyday life. Here are three tips on how to practically introduce self-compassion into your daily schedule.
1. Realize that stress isn't a healthy motivator 
People often refer to stress as a great motivator. A heightened sense of urgency can push you to conquer challenges in your life, right? While stress can heighten your awareness and help you find quick solutions, it isn't that great for your health. "You get into constant 'fight or flight' mode, trying to avoid the negative imagined consequences, which messes with your cortisol and other stress hormones," Dr. Greenberg writes. "You get overwhelmed, and decide to zone out playing video games or posting mindlessly on social media, or you rebel and eat, drink, or spend too much, thus creating more self-disgust. If this sounds familiar, perhaps you need a healthy dose of self-compassion."
Even though stress can give you that extra push of energy to meet deadlines at work, pick up the phone and call a client, finish your chores around the house, or start that new diet, it comes with some bad side effects. Giving in to the urgency of stress as a motivator leaves you feeling awful about yourself all the time, she explains. Instead, reduce stress in your life and finding healthy ways to motivate yourself. This healthier approach allows you to find more balance in your life, too. "You'll still be motivated to get important things done, but you're likely to be happier and less anxious while doing them," Dr. Greenberg says.
2. Watch your mouth 
Whether it's a big project at work, juggling family schedules, or turning on the nightly news, stress is something that far too many of us experience on an everyday basis. To make matters even worse, sometimes the little voice in our own head can be the worst critic we have to face.
Next time you're stressed and being hard on yourself, watch out for negative self-talk. Instead of throwing yourself under the bus for a mistake, reassure yourself that you're not the first one to make a mistake and that you don't have to be perfect. Dr. Greenberg had even more suggestions for how to incorporate positive talk into your thoughts. "You may say something like, 'It doesn't help to beat yourself up,' or, 'Everybody makes mistakes sometimes.' You may want to acknowledge yourself for trying, even if you weren't successful," she writes. "You may tell yourself to focus on the positive aspects of what you did as well as the negative ones, or that behavior change is a process, and you need to keep trying."
3. Forgive yourself 
If you're like me, you're more likely to quickly forgive other's mistakes than to forgive your own mishaps. Next time negative thoughts about yourself sneak into your mind during a stressful situation, gently correct yourself onto a more positive path. Forgive yourself for mistakes, and then decide to approach the situation in a better, more self-positive way next time.
After a stressful situation, Dr. Greenberg advises us to look at what you could have done differently. "You may ask yourself what led to the destructive behavior, whether it's really what you want to be doing, and what the consequences are. Tell yourself that you have other choices, and it's never too late to change." But don't forget to put those thoughts into action, too. "Think about a concrete step you can take right away to move in a more positive direction or get up and try again,"Dr. Greenberg writes. "If someone else was mean and you let them get away with it, think about how you can set a limit or boundary to stop this from happening again."
Read more:
How to make sure you're doing forgiveness right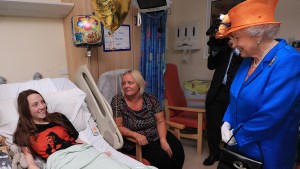 Read more:
The compassion of a queen