"This deafness leaves room neither for love, nor for freedom; it always leads us to slavery," Francis says.
Pope Francis today reflected on one of the most poignant moments of the Gospel, when Jesus laments over Jerusalem, "how many times I yearned to gather your children together as a hen gathers her brood under her wings, but you were unwilling!"
Jesus felt this lament — what the pope referred to as a "nostalgia for us … nostalgia for a people" — because we so often choose foolishness and folly over listening to the Lord.
"Folly is a form of 'not listening,'" Francis said, speaking in his homily today at Casa Santa Marta. It is an "inability to hearken to the Word."
And then "the Word does not enter, I do not let it in because I do not listen," he said. Or, alternatively, we might let God's word into our hearts but we let it in "distilled" — "transformed by my own conception of reality."
"The fool does not listen. … He does his own thing, always – and for this reason the Word of God cannot enter into his heart, and there is no place for love," Francis said. And, he warned, when there's no place for love, there's no place for freedom either.
Hence, these fools become slaves, having exchanged the "truth of God with lies," and choosing to worship creatures instead of the Creator. "They are not free and do not listen: this deafness leaves room neither for love, nor for freedom; it always leads us to slavery."
The pope encouraged an examination of conscience: "Do I listen to the Word of God? Do I let it in? … The Word of God is alive, effective, revealing the feelings and thoughts of the heart. It cuts, it gets inside. Do I let this Word in, or am I deaf to it? Do I transform it into appearance, transform it into idolatry, into idolatrous habits, or into ideology?"
"Let us look at the icon of foolish Christians," urged Pope Francis, "and beside this folly let us look on the Lord who is always at the door." He knocks and waits. We should consider the Lord's nostalgia for us: "of the love He had for us first."
"And if we fall into this stupidity, we move away from Him and He feels this nostalgia – nostalgia  for us – and Jesus wept with this longing cry, weeping over Jerusalem: it was nostalgia for a people He had chosen, a people He loved, but who had gone away for foolishness, who preferred appearances, idols, or ideologies."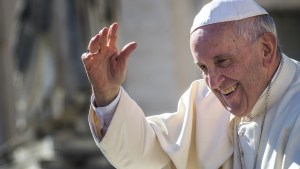 Read more:
Pope says contact with Scripture will bring you two qualities you might need today