Hint: It doesn't involve any extra prayers or devotions.
Prayer is essential to growth in the spiritual life, but so are basic human virtues — building blocks of daily life that everyone should strive to achieve, in order to make our world a better place.
The Catechism of the Catholic Church explains,
"Human virtues are firm attitudes, stable dispositions, habitual perfections of intellect and will that govern our actions, order our passions, and guide our conduct according to reason and faith. They make possible ease, self-mastery, and joy in leading a morally good life. The virtuous man is he who freely practices the good. The moral virtues are acquired by human effort. They are the fruit and seed of morally good acts; they dispose all the powers of the human being for communion with divine love" (CCC 1804).
Basically, a virtuous life is achieved through good habits. These habits are the foundation of holiness.
The ancient philosopher Aristotle also illustrated this same concept in his Nicomachean Ethics. He explained how "moral virtue comes about as a result of habit." If we do not have a habit of virtue, we will never draw closer to God.
Throughout the centuries various writers have developed a list of the seven human virtues that provide an essential key to holiness. Going through this list is a perfect way to practice an examination of conscience, discovering how we have succeeded or failed in living out the Gospel.
Chastity – According to one's state in life, chastity revolves around the proper ordering of sexuality.
Temperance – Deeply connected to many different passions, temperance allows for the ability of self-control.
Charity – A hallmark of Gospel living, charity is born out of a selfless love of neighbor.
Diligence – This virtue focuses on counteracting laziness and applying one self to a task with perseverance.
Patience – One of the hardest virtues, it means bearing difficult things (and difficult people) with gentleness and compassion.
Kindness – Often forgotten on the internet, kindness is a virtue and a worthy habit to adopt.
Humility – Last, but not least, humility counteracts a prideful nature and is true self-knowledge, recognizing both your faults and strengths.
Sometimes a confessor will challenge a penitent to pick one virtue to work on, taking baby steps to make it a lasting habit. A person can draw much closer to God by practicing a single virtuous habit each day.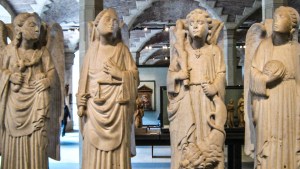 Read more:
What are the four cardinal virtues?