Visitors contemplate the life of Jesus on a path representing rosary beads.
Need an idea for Lenten almsgiving?
Help us spread faith on the internet. Would you consider donating just $10, so we can continue creating free, uplifting content?
Make a Lenten donation here
Venerable Fulton J. Sheen wrote that the physical aspect of praying the Rosary – the touching of the beads and the moving of the lips – creates a "rhythm in the soul."
"What the runway is to the airplane, the Rosary beads are to prayer — the physical start to gain spiritual altitude," wrote Sheen.
The rosary walk and garden outside the Basilica of National Shrine of the Immaculate Conception offers visitors and residents in Washington, D.C., a new and even more physical way to pray the Rosary.
Officially opened on September 23 during a Mass and Dedication at the Basilica, the new garden provides a peaceful oasis from which to pray the Rosary. Don't have a set of rosary beads with you? Not a problem – the path itself facilitates the contemplation of the life of Christ that is the Rosary prayer.
A paved walkway represents the thread of the Rosary, and winds its way around five granite arches, each depicting all four groupings of mysteries of the Rosary – the Joyful, Sorrowful, the Glorious, and the Luminous.
Each arch contains a complete set of one decade of the Rosary. For example, a pilgrim (perhaps someone taking a lunch break) passing by Arch I is presented with a colorful mosaic depicting the four decade of each of the four mysteries: the Annunciation (Joyful); the Agony in the Garden (Sorrowful); the Baptism of Christ (Luminous); and the Resurrection (Gold).
For those who would like to say all 20 decades of the Rosary at once, they can take four circuits around the garden, meditating on a different mystery each time they begin a new circuit. Those who might not have the time for that, or who would prefer to say just 5 decades, can contemplate one set of mysteries at a time as they walk from arch to arch.
The garden features a white Carrara marble sculpture of Our Lady of Fatima with the three shepherd children. The Blessed Virgin Mary appeared to the children six times, and on the sixth and last appearance on October 13, 1917, she told the children her name, "the Lady of the Rosary," and asked that people continue to recite the Rosary every day.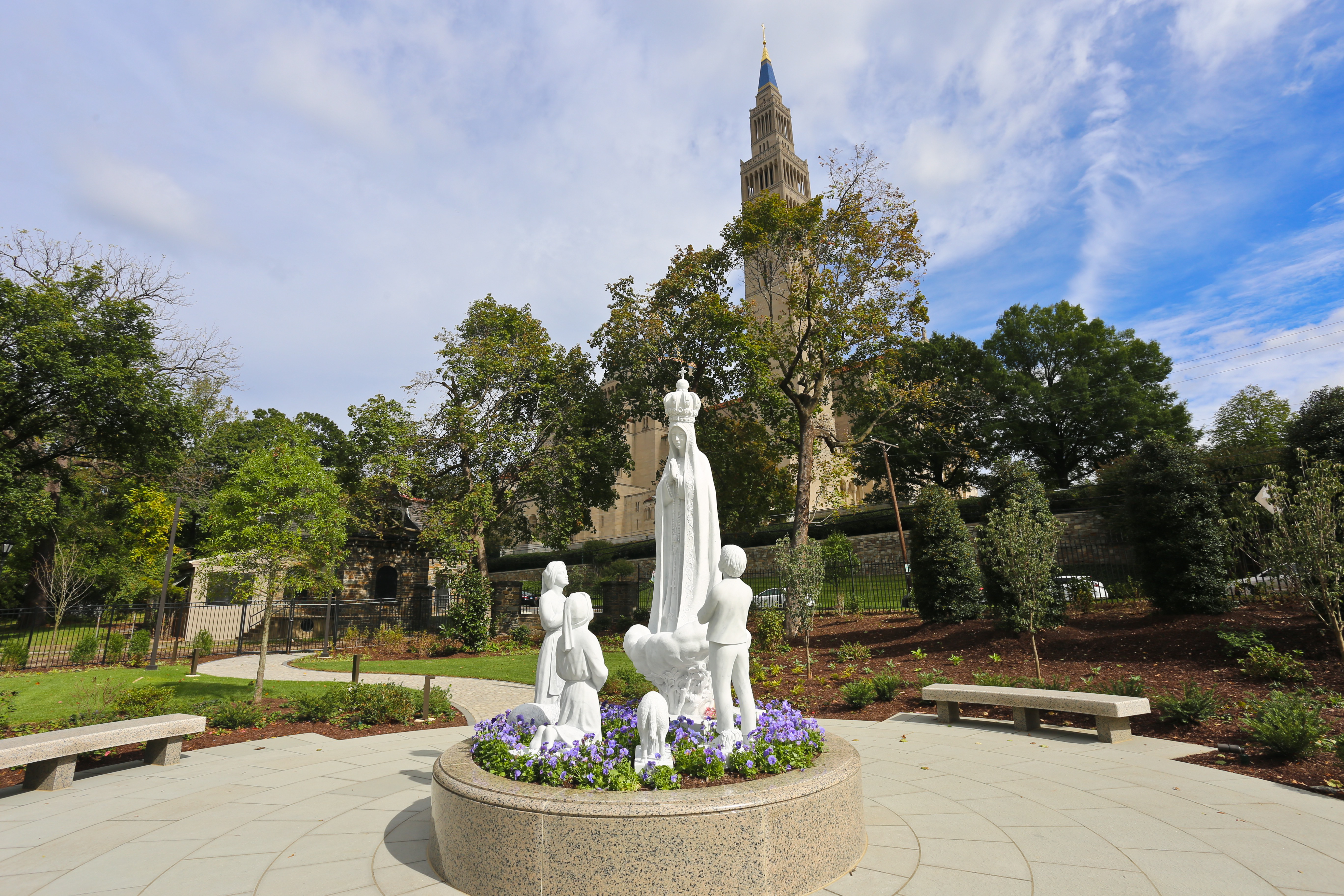 Across from the Fatima sculpture is a marble sculpture of Christ Crucified, marking the beginning and the end of the Rosary, when one makes the Sign of the Cross.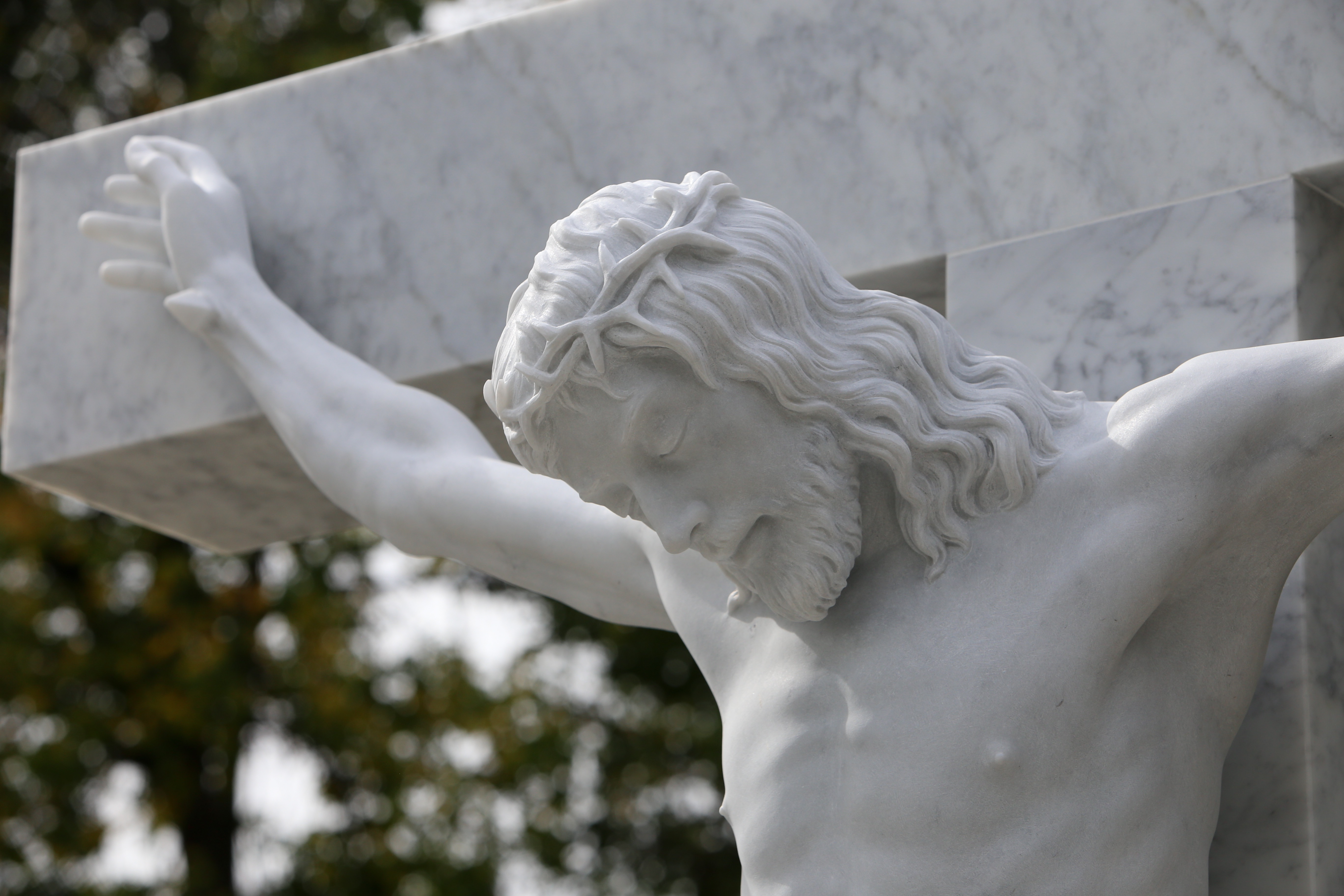 See more photos here: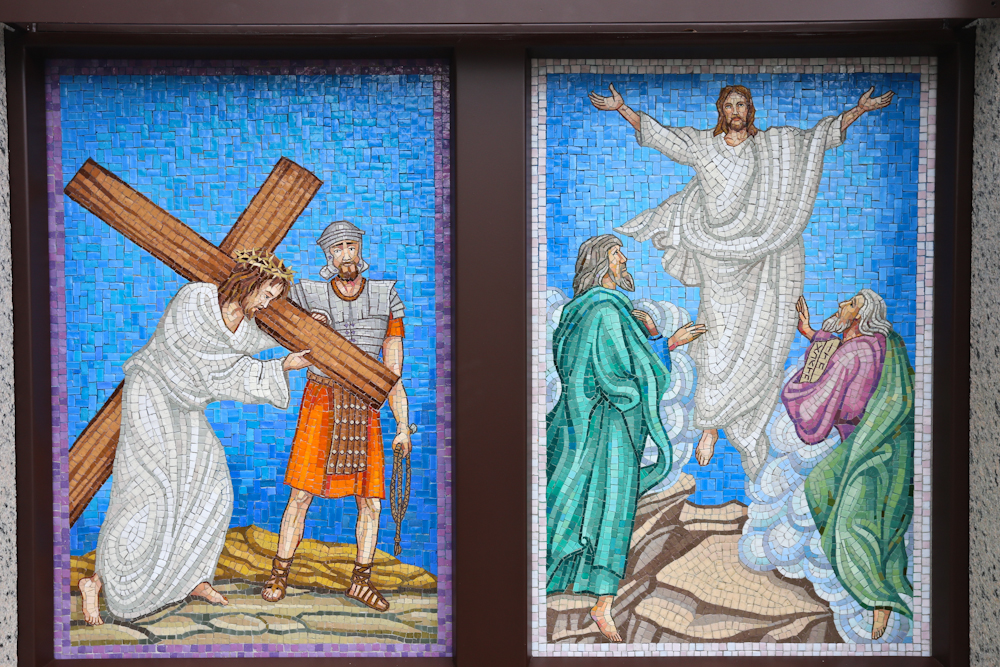 Launch the slideshow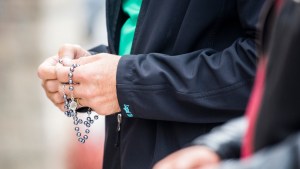 Read more:
A beginner's guide to praying the Rosary