Victims and survivors testify to mass killings of Iraqis
Need an idea for Lenten almsgiving?
Help us spread faith on the internet. Would you consider donating just $10, so we can continue creating free, uplifting content?
Make a Lenten donation here
A United Nations report released yesterday says that Islamic State fighters executed at least 741 Iraqi civilians in Mosul during the battle to retake the city from Islamist militants.
Drawing on testimony from victims, survivors and witnesses, the report details atrocities, which could be used for war-crimes prosecutions, according to a report in the New York Times.
"During the course of the operation to retake Mosul city thousands of civilians were subjected to shocking human rights abuses and clear violations of international humanitarian law," Zeid Ra'ad al-Hussein, the UN High Commissioner for Human Rights, said in a press release.
"The execution-style killing of civilians, the suffering inflicted on families, and the wanton destruction of property can never be tolerated in any armed conflict, and those responsible must answer for their heinous crimes," he said.
The report described three occasions when civilians were executed for collaborating with the Iraqi government, reported the Times:
On Nov. 25, 2016, the report said, militants shot to death 27 civilians in Muhandiseen Park for leaking information. On Dec. 2, militants killed a Mosul University student for having received cash from a friend outside the city. On Dec. 17, they publicly beheaded two civilians in eastern Mosul suspected of having cooperated with Iraqi forces.
ISIS forces had seized Mosul in 2014, and declared the Islamic State a "caliphate" from its historic Great Mosque of al-Nuri. A U.S.-backed coalition campaign began to take back the northern Iraq city in October of 2016, declaring victory in July of this year.
The 741 executed civilians were among a total of at least 2,521 civilians killed during the Battle of Mosul. Most were killed by Islamic State attacks, by shelling, drones and bombs.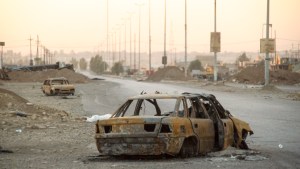 Read more:
Now that Mosul is liberated from ISIS, will Christians return?