An interview with RabelzTheMC on his faith and music
RabelzTheMC is a Catholic Hip-Hop artist whose goal is to bridge the cultural gap between Catholicism and Hip-Hop. In 2016, the Jubilee Year of Mercy, he released his album #Mercy, which is full of Catholic themes and introspective religious exploration.
His song "Novena" caught our ear in particular. His lyrics exhibit a deep understanding of his faith, while the use of organ on the track creates a uniquely Catholic atmosphere. As far as "bridging the gap" goes, it's all there.
We had a chance to speak with Rabelz about his music and what inspires him:
When did you discover your talent as a rapper?
I started writing music at 8 years old with a couple of childhood friends. We formed a group called PYA, Perfect Young Assassins. When we wrote songs we would share them among one another and my songs were always well received by my friends. It was then I realized I had skill in writing lyrics.
What is your goal as an artist?
My official goal is for mankind to learn how to accept God's mercy though listening to my music. I aim for my lyrics to be informative to the Church's teachings so that my listeners may fully understand accept the message of Divine Mercy in a way that's cool, relative, and undeniably acceptable by men, women, and children as young as 8 years old.
Your lyrics are filled with Catholic terms and imagery. When did you feel called to merge your faith with your artistic talents? Was there a particular moment when you discerned your vocation?
I was baptized into the Catholic faith in 2005. For many years I identified myself as a Christian/Gospel rapper even though my lyrics were doused with Catholic rhetoric. I didn't know Catholic Hip-Hop existed until late 2013. During my journey from 2005-2010 I spent those years reading and admiring the Diary of St. Faustina.
I had no clue what it meant for me and my family so I stopped reading it, but all the while I was still fascinated by the words spoken by Jesus as they resonated in my heart. In 2014 I heard a little voice calling from God that asked me if I was open to rapping about the Divine Mercy message. At that very moment I broke down in tears and said "yes." I finally understood why I was so in love with this message! From that moment in 2014 I proclaimed myself to be a Catholic Rapper.
You mention prayer in many of your songs. How often do you pray and which prayer is your favorite?
The prayer I grew up praying is Psalm 23. That used to be my favorite prayer. Now that I have a family every night before bedtime my wife, 5 children, and I pray the Rosary first, St. Michael's prayer second, and then the Divine Mercy Chaplet third. My favorite is the Divine Mercy Chaplet, of course.
Do you find it hard to reach a Christian audience? If so what would you say is the biggest hurdle you face?
For me, in 2014 when I accepted the role of incorporating the message of Divine Mercy into my art I was afraid that the Christian audience would not accept it, especially since it was so very Catholic. The voice of God instantly reassured me in my heart that I had nothing to worry about because nothing could get in his way. It was extremely reassuring. The following year in 2015 Pope Francis announced that the Church would be celebrating the Jubilee Year of Mercy through November 2016. Personally, my biggest hurdle today is probably not having enough time, financial means, and skills to produce and engineer that top-notch, high-quality sound these messages deserve.
Do you find any similar obstacles are present on the opposite side, when trying to build a rap audience around Christian music?
Music is all about celebrating certain moments. Anyone coming from a secular Hip-Hop listening experience is accustom to hearing a top-notch, high-quality mix. I have been refused air play by indie Christian radio stations and Christian DJs because of the quality of production, but that has not deterred my mission. I just pray and practice every chance I get because I do it all on my own.
Who in your life has influenced your faith the most?
My wife definitely! She introduced me to the Diary of St. Faustina book back in 2007 and every thing Catholic, for that matter. She is a cradle-born Catholic.
What music are you listening to? Is there an artist who inspires you?
Surprisingly, I don't listen to Christian music. I rarely listen music anymore; when I did I was influenced by artist like Luther Vandross, Yolanda Adams, POD, Jay-Z, Nas, 50 Cent, Drake, BIG, 2-Pac, Fabulous, Lloyd Banks.
Your last album release was #Mercy, from 2016. Are you working on anything new?
Since my last album release titled #Mercy in 2016 I have released a free mixtape project in 2017 titled #MercyInMotion in addition to 16 singles with 4 featured artists, so far. People don't buy music as much these days so I give a lot of it away for free. I do plan on releasing another iTunes/Spotify project mid-2018. Right now I am preparing for my trip to Auckland, New Zealand in April 2018 where I will be giving testimony on Divine Mercy and performing for the 25th-Anniversary Eucharistic Convention.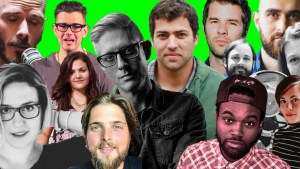 Read more:
The rise of Catholic pop music: 12 of the best current Catholic artists
Follow Cecilia–Aleteia's music page–on Facebook!