Christians have maintained the tradition of saying grace before meals since the beginning.
While many are very familiar with the traditional "Bless us, O Lord" prayer before meals, this prayer is only one of many that Christians have used over the centuries.
In fact, there are a wide variety of prayers that come from all different ages in the Church. One of these prayers has been attributed to St. Athanasius of Alexandria, an influential saint who lived in the 4th century. He follows in the tradition of St. Clement of Alexandria, who wrote, "Before taking nourishment, it is fitting to praise the Creator of all things, and it is fitting also to sing His praises when we take as nourishment the things created by Him."
The following prayer of St. Athanasius is one of the most ancient prayers of thanksgiving at meal time and yet, reflects much of what we now pray in the "Bless us, O Lord," prayer.
Blessing Before Meals

We give Thee thanks, our Father, for the Resurrection which Thou hast manifested to us through Jesus, Thy Son; and even as this bread which is here on this table was formerly scattered abroad and has been made compact and one, so may Thy Church be reunited from the ends of the earth for Thy Kingdom, for Thine is the power and glory for ever and ever. Amen.

Thanksgiving After Meals

The merciful and compassionate Lord has given nourishment to those who fear Him. Glory be to the Father, to the Son, and to the Holy Spirit, now and forever and throughout the ages. Almighty God and our Lord Jesus Christ, whose name is above all things, we give Thee thanks and praise Thee because Thou hast deigned to give us a portion of Thy goods and nourishment for our body. We pray and beseech Thee to give us in like manner heavenly nourishment. Make us fear and reverence Thy law and Thy terrible and glorious name, and grant that we may never disobey Thy precepts. Write in our hearts Thy law and Thy justice. Sanctify our mind, our soul and our body through Thy dear Son, Jesus Christ our Lord. To whom with Thee belongs glory, dominion, honor and adoration for ever and ever. Amen.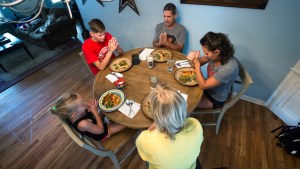 Read more:
6 Other ways of saying grace besides "Bless us, O Lord…"
Read more:
Remembering the dead at every meal