Squanto, a Catholic Native American, helped the starving Pilgrims grow food for their first Thanksgiving.
Many are familiar with the famous story of the first Thanksgiving. It centers on the religious Pilgrims fleeing from England and forming a colony at Plymouth, Massachusetts. Once there, a Native American tribe helps them grow food, and in November of 1621, the two groups come together for a harvest celebration.
What you may not have known is that a Catholic Native American was behind it all.
Before the Mayflower landed, a Native American man named Squanto was first captured by Captain George Weymouth in 1605 as he was exploring the coast of Massachusetts. Squanto was brought back to England and trained to be an interpreter. He then returned to the New World in 1614 with John Smith (think Pocahontas), possibly as a guide. However, Smith left Squanto there and an associate of his (Thomas Hunt) kidnapped him with hopes of selling him and other natives in Spain.
Baptized Catholic
When he arrived in Spain, Squanto escaped the captivity of John Hunt and lived with Franciscan Friars for a few years. He was baptized and eventually left the monastery, hoping to return to his homeland. He reached England in 1619 and was able to board a ship back to Massachusetts and searched for his former tribe, discovering that they all died from smallpox.
Then the Pilgrims came in 1620 and a few months later in 1621 discovered, to their astonishment, a Native American who knew English (enter, Squanto). He came to their rescue and taught them everything: how to grow corn, squash and even where to fish.
Squanto became vital to the survival of the Pilgrim colony and was a valued interpreter. He died two years later and William Bradford, governor of Plymouth, said that he was, "a special instrument sent of God for their good beyond their expectation."
Some historians believe that the Pilgrims would have died before celebrating their first Thanksgiving if it wasn't for Squanto.
Read more:
The first Thanksgiving in America was a Catholic Mass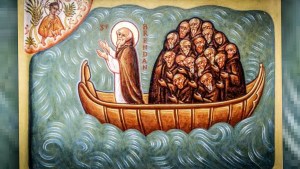 Read more:
Did St. Brendan discover America in the 6th century?