Crochet needles are the secret to this unique way of remembering those who made the ultimate sacrifice.
You can get Aleteia inspiration and news in your inbox. Our specially curated newsletter is sent each morning. The best part? It's free.
Sign up here
At the beginning of November, artificial poppies start springing up everywhere. And it all began with a soldier's poem.
"In Flanders Fields" was written by John McCrae, a Canadian doctor who served in World War I. After returning home, he published the poem, which features imagery of the poppies that grew on the Western Front. The soil churned up by the fighting helped the flowers grow, and these poppies soon became a popular symbol by which to remember all those who fought in the The Great War. The artificial poppies were first sold to raise money for veterans and families who had lost loved ones in the war in Great Britain in 1921.
Now, every year in honor of Remembrance Day (November 11, celebrated as Veterans Day in the United States), the artificial poppies bloom on clothing, fences, and churches. They serve as reminders of all those who have fought and died in service to their country and of the horrors of war, which many of us who have not directly experienced it will likely never understand.
But there's one parish in Suffolk that has really gone above and beyond. Though they initially set out to knit 40 poppies to cover two crosses, they have now knit over 5,500 of them. Many of the contributors had never crocheted before but were eager to learn. Eight months later, they have crocheted enough poppies to cover the walls surrounding their parish, and they're still going!
Nearly 16 million people died in World War I alone, not to mention those lost in the wars since, and there will never be enough we can do to remember each and every one of them. But hopefully our small reminders, our steadfast traditions each year, will help to ensure that we do remember and never forget.
You can hear more in the video below.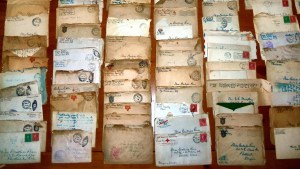 Read more:
An American soldier's touching love letters from World War I