Francis recounts what he learned from an Italian actress who was asked to get rid of her wrinkles so she could be more successful.
It's an unusual question for the pope, who turned 81 years old on Sunday, and his answer is worthy of deep reflection. What image does Pope Francis have of himself? The pontiff answered by explaining his daily method for not falling into vanity and narcissism. He warned against the danger of evaluating ourselves based on what he called the "mirror assessment."
"A lot of people have a very good image of you. What image do you have of yourself?" asked Michiko, a student at the Sofia University in Tokyo, this Monday, December 18, during a live streaming event with the Vatican.
"That's a question you'd expect from a cosmetologist, not an English student who wants to study sociology. But I like it," the pope answered.
The mirror 
"Dealing with the issue of image, there's always a kind of confusion," Peter's Successor began saying. "I'll tell you in one word: 'mirror.' When we comb our hair and wash our face, we look into the mirror. We have an image of ourselves. But when the mirror starts to be part of your life, you begin to dialogue with the mirror in an attitude that is almost—or completely—narcissistic and you end up with a pathology of self-referentiality. I think we have to be very careful when we seek to judge or assess ourselves—very careful not to fall into 'mirror assessment.' It's going to deceive us; it's always going to deceive us!"
"You asked me," he continued, "what image I have of myself. I try not to look at myself in the mirror, because that's something we have to be constantly careful of, because vanity can latch on to you from all sides. I try to look inside myself once or twice a day. To look at the things I felt during the day, the things that happened inside me. And then—the word sounds strong, but you'll understand what I mean—based on that, I judge myself; that is to say, I decide what opinion I deserve of myself for that thing I did, for that decision I made, for that attitude I had. There, going back to the image of what I did during that day."
Along those same lines, the pope insisted on the question of what he thought about himself, from a more general perspective. "I think … and I'm going to say this from the perspective of my faith—I think I am a sinner whom God has loved very much, and continues to love. But my complete concrete image [of myself] is something I find day by day looking at how I behave, the decisions I make, the mistakes I make … and it's an image that progresses, as life progresses."
The Holy Father went on to warn that "there is always the danger of fooling yourself with an image, or of disguising your image. Obviously, I'm not against makeup. … But there are ways to use makeup that deform reality."
The actress he learned from…
Then the pope, who loves Italian neorealism, a cinematic movement which was born from the ashes of the Second World War, spoke about his memories of an emblematic actress of that period.
"I remember the actress Anna Magnani (Rome, March 7, 1908—Rome, September 26, 1973). One time, when she wasn't young anymore, they told her that she should have her wrinkles removed so she could be more successful in cinema. And she said, 'No, no, no! It took me many years to get these wrinkles. I'm not going to touch them.' They were like a treasure for her," Pope Francis related.
In this way, the pope invited us to accept the metaphorical wrinkles that appear on our faces as the result of life. We should "accept our image each day: the image of our successes, our failures, the image of our health and sickness, the image of a short life and of a long life. Accept the image of each day, and correct what we can. But never hide the image, or fall into auto-referentiality with the mirror.  The image I have of myself is that of a sinner whom God loves, and has loved greatly. That makes me very happy. Thank you!" he concluded.
Daily Examen 
The pope's method to fight vanity is called a "daily examen," or a "daily examination of conscience," derived from the Latin word "examinatio" (examination). It's a meditation practiced especially by the Holy Father's religious family, the Jesuits, but also by many other Christians. There are many versions of the examen, but normally it has five steps. Here is a simple approach to this spiritual method created by Saint Ignatius of Loyola, the founder of the Jesuits:
1. Put yourself in God's presence. Give thanks for the immense love God has for us.
2. Pray for the grace of understanding how God is acting in your life.
3. Review what happened during your day. Remember specific moments and your feelings during those moments.
4. Reflect on what you did, said, and thought at those moments. Some people suggest evaluating those actions in terms of drawing closer to, or away from, God.
5. Think about upcoming events, and how you can collaborate more effectively with God's plan. Possibly, make a specific resolution, and conclude with an "Our Father."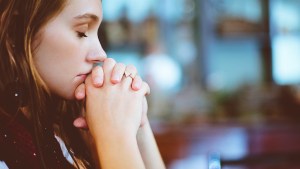 Read more:
A nightly "examen" to help you become a better wife
~
This article is translated and adapted from Aleteia's Spanish edition.