Even devout Christians don't know some of these tidbits.
Almost three years ago on Christmas Eve, as I sat in the hospital holding my first baby, it dawned on me that at one point, the Blessed Mother had similarly sat gazing at her newborn. I wondered what went through her mind. She knew enough to swaddle him, but how did she feel about being surrounded by strangers who came to worship? Was she irritated by the animals in the stable?
As it turns out, many things I thought I knew about the Nativity were actually incorrect, including Jesus' visitors, the structure the Holy Family dwelt in and the presence of animals. How could I have been so totally unaware of all of these things regarding Jesus' birth? But it was so nice to be reminded about the real story behind the Christmas season.
This year, I quizzed myself again with the two videos below. Want to see how well you know the biblical story of the birth of Jesus? Just click play!
And here are 5 more facts that even Christians get wrong about the Christmas story: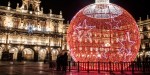 Read more:
These 5 countries have the best Christmas Eve traditions