It's not easy ... but it can shift your focus and help you face the negative.
How can we see beauty when faced with illness, suffering, or cruelty? How is it possible to avoid discouragement and to give thanks, despite life's trials?
Research in psychology shows that practicing gratitude can lead to personal growth. However, research seldom speaks of gratitude in the midst of suffering. Gratitude and suffering often seem contradictory. This is where spirituality can inform our outlook, enabling us to continue giving thanks despite challenges. Faith allowed Etty Hillesum, a Dutch Jewish holocaust victim, to say, even as she was being deported to Auschwitz: "And yet, I find this life beautiful and rich in meaning."
See the positive in the negative
In his book Puissance de la gratitude. Vers la vraie joie ("The Power of Gratitude: Towards True Joy"), Fr. Pascal Ide notes that, in psychological terms, the capacity to draw positive lessons from failure and adversity is called positive reframing. Suffering alters our field of consciousness and makes us focus on the pain we endure. Choosing to shift our perspective could allow us to find reasons for gratitude, even in difficult situations.
The author offers several examples: a child who is overjoyed to find one unbroken plate after toppling a whole stack, a woman who rejoices in her heightened sense of taste, "thanks" to her vision loss … Sometimes, even in painful situations such as grave illness or the loss of a loved one, we can discover the fruitfulness of suffering: a message of hope that touches thousands, or the strengthening of family bonds.
Fr. Pascal Ide invites us to make this positive perspective a virtuous habit, as does neuropsychiatrist David Servan-Schreiber, who suffered brain cancer: "My recipe for maintaining a reserve of optimism is to concentrate on what is going well. Every day, I review all the things, big and small, that have been enjoyable, that have brought me pleasure, joy, or simply amusement, and I feel gratitude. I conscientiously cultivate my feeling of gratitude." (Not the Last Goodbye)
Consider assets as gifts
A family, a house, good health, water running from the tap, fruit and vegetables, love, friends … We can get used to everything, and sometimes forget to appreciate our gifts. We often fail to recognize what we have until it's gone. Let's be grateful, learn to give thanks, and be amazed by these gifts, instead of acting like spoiled children.
"Rejoicing in what we consider assets — family, a home, good health — makes us appreciate life," observes Philip Watkins, researcher at Eastern Washington University. "This conscious gratitude brings us to appreciate what we have, instead of lamenting what we are missing."
Living with hope
Fr. Philippe Baud, founder of a center for Catholic studies in Lausanne, Switzerland, writes about holocaust victim Etty Hillesum, whose letters and diaries were published posthumously:
"What is extraordinary about Etty Hillesum is her capacity to see all of life as a gift: everything that happens to her has meaning, is a gift. It's not that she doesn't want to see the bad, but she sees it differently. In the midst of barbed wire, she writes, 'At the bottom of my heart still live the sun of summer days on the moor, and the field of yellow lupines stretching all the way to the shack …' "Filled with joy at her perception of the invisible, she becomes radiant in the sight of others. She incarnates a form of hope that makes her see the essence of the Kingdom, if not its realization. Etty Hillesum's situation is dire, but she lives hope. She lives in the present and accepts it as a gift, while completely aware of the historical situation to which she is subject. "Hope consists in believing that all is not lost when, from a human perspective, a situation appears hopeless. Hope lives beyond action, enduring when there is nothing else we can do. Etty Hillesum recognizes her powerlessness, but believes in an invisible way out, despite appearances. Hope unfolds where eternity makes itself felt."
To show gratitude is to give love for love. It is to love God, the ultimate giver of all things, and to hope for eternal life, the ultimate gift He offers each of us.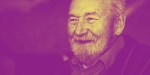 Read more:
Love of God is pure when joy and suffering inspire an equal degree of gratitude.


This article was originally published in the French edition of Aleteia and has been translated and adapted here for English-speaking readers.