Forget juice fads; follow this nutritionist's detox guide, which is surprisingly delicious.
Send us the names of your loved ones who are sick or suffering. The Aleteia prayer network of 550 monasteries will take them to prayer for the World Day of the Sick.
Click here to share your intentions
Cleanses (also known as "detoxing") continue to be a big trend in the nutrition world, especially this time of year. Technically, these two terms don't have a a significant meaning — because they can have very different dietary requirements depending on what method you choose, and are ultimately defined by the person who is using them. So when I offer a "cleanse week" to any of my clients, I present it as two things: First, it's not about fad juices or all-soup diets; my cleanses contain real, natural foods. And secondly that this, like most things worth doing, will be a challenge. But there's a big reward for sticking with it: The purpose is to provide mental clarity, energy, better sleep, weight loss, and maybe even improve autoimmune diseases.
But before I give you my cleanse guide, it's essential that you learn why a cleanse is worth doing in the first place:
1.It will reduce toxins accumulated in the body from the food we eat, products we use, and environment we live in.
3.It will reduce fat storage and increase your energy.
4.A detox can often help you identify any food intolerances or sensitivities that have been causing you discomfort.
5.By simplifying your selections, you'll begin to see food as nourishment rather than pleasure. (This is a very healthy eating mentality.)
6.A cleanse often blands your palette so that you can better appreciate the true flavors of real, nutritious food.
Sounds pretty great, right? If done properly, a detox or cleanse can unlock a lot of healthy eating habits for you. As I said before, there are a lot of different cleanses out there for sale, but if you're trying to do a cleanse yourself (and you can do it yourself!), stick to the following eating plan:
Eat whole foods: Eat foods as close to their natural state as possible. Fruits and vegetables, lean animal proteins, nuts, seeds, legumes, and healthy fats.
Eat a variety of colors (minimum of 5 per day): Feel free to switch meals around, repeat meals, etc. As long as you have at least 5 colors a day, that's fine. For example: if you don't want to waste food, eat leftovers the next day.
Choose organic as much as possible: Use spices and herbs to add depth of flavor. If you salt your food, be sparing and use pink Himalayan sea salt for its trace mineral content.
Drink plenty of water: At least half your body weight in ounces per day. Drink at least 16 ounces before breakfast, with every meal, during and after exercise, and sip throughout the day. Add lemon or lime and other fruit for flavor.
Avoid the following: Eliminate all alcohol, caffeine and tobacco. Any caffeine-free herbal, green, white, or rooibos teas are okay. If you absolutely have to have coffee, just cut back significantly! Avoid all dairy, gluten, refined sugar, and processed foods.
Your cleanse guide: Day 1
Ready to start detoxing? Here's an example of what a day of food should look like when you're doing a cleanse:
Upon waking
16 ounces room temperature lemon water plus a probiotic. Remember to drink 16 ounces of water with each meal and sip on this throughout the day.
Breakfast (7 a.m.)
Make a Cozy Pear Smoothie with the following ingredients:
¼ frozen banana and 1 medium pear
¼ avocado, cored
2 tablespoons hemp seeds
½ teaspoon cinnamon
¼ teaspoon cardamom
½ teaspoon pure vanilla extract
2 big handfuls baby spinach
½ cup unsweetened coconut or nut milk
Ice
Snack (10 a.m.)
1 medium apple, cut and sprinkled with pumpkin pie spice and 2 tablespoons natural almond or peanut butter (OR 1 packet of Justin's natural PB). You can also sprinkle the apple slices with chia/flax/hemp seeds. Make yourself 1 cup of herbal tea (served hot or iced).
Lunch (1 p.m.)
Make a turkey salad using the following ingredients:
Handful kale, chopped
½ cup cooked quinoa (cooked in chicken bone broth or veggie broth for added flavor + nutrients) Quinoa could be subbed out for another starchy carb like brown or wild rice.
½ cup roasted winter squash pieces (sliced or diced — butternut, buttercup, kabocha, delicata, acorn, carnival, pumpkin, etc.)
4 ounces turkey, shredded or chopped (Vegetarian option: ½ cup cooked beans of your choice)
1 tablespoon thinly sliced shallot or red onion
1 tablespoon toasted hazelnuts
2 unsweetened unsulfured dried figs, chopped
A sprinkle of hemp seeds
Maple Balsamic Dressing (use just 1-2 tablespoons, then save the extra to use on future salads):
4 tablespoons avocado oil
4 tablespoons balsamic vinegar
1 teaspoon Dijon mustard
1 teaspoon pure maple syrup
¼ teaspoon garlic powder
Sea salt & black pepper
Snack (4 p.m.)
Make an avocado egg salad wrap. These are great, because you can have an unlimited amount of the "wraps" which are just pieces of crispy lettuce! You can use either bibb, Boston, romaine, green/red leaf lettuce, or collards. Then fill the wraps with this mixture:
2 hardboiled eggs, chopped
¼ avocado, smashed
½ teaspoon Dijon mustard
Fresh lemon juice, squeezed
Dash of paprika
Finely chopped celery
Finely chopped chives
Sliced cherry/grape tomatoes
Sea salt & black pepper, to taste
Dinner (7 p.m.)
Baked salmon seasoned with fresh thyme, lemon and sea salt and pepper. Simply bake the salmon at 350 for 18 minutes, and eat it with a side of green and yellow steamed beans sprinkled with slivered almonds. Serve over ¾ cups of brown rice.
For most of you, this will be a lot of food. Surprising, right? But that's just it: cleanses aren't about denying your body food. We need food to fuel our brains, our activity and our lives! That said, the amount you see above can and should be different for everyone, but everyone needs to be kept to the same ratios of fat protein and carbohydrates. So if this amount doesn't feel correct for you, be sure to adjust the portion size of the whole meal and not just one part of it.
Now get out there and give it a try! You've got this.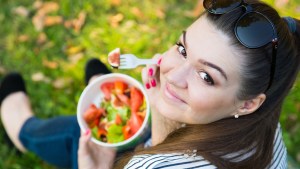 Read more:
The surprising emotional benefits of banning sugar