While chaplains celebrate Mass for players, bishops place a charitable wager.
Prior to Sunday's Super Bowl match-up, both teams will have the opportunity to participate in a Mass offered by their priest chaplains.
According to the Catholic Spirit, "Father Tom Barcellona and Msgr. Mike Foley [will] celebrate Mass for the respective Super Bowl-bound teams they serve."
Msgr. Foley has served the New England Patriots as their "unofficial" Catholic chaplain since 1990 and celebrates Mass for players and coaches on game days.
Father Barcellona has been with the Philadelphia Eagles since 2004 along with his other priestly duties.  Besides celebrating Mass for the team he "also helps provide priests for visiting teams across the NFL through his role on the board for Catholic Athletes for Christ. The nationwide ministry works with athletes of all levels to live the Catholic faith."
In addition to this spiritual support, Cardinal Sean O'Malley of Boston and Archbishop Charles Chaput of Philadelphia have placed a charitable wager on Sunday's game. Crux explains the bet between the friendly prelates.
Should the Eagles win, O'Malley has pledged to make a $100 donation to St. John's Hospice in Philadelphia, which assists homeless individuals in finding stable residences.If the Patriots win, Chaput has agreed to make a $100 gift to Catholic Charities of Boston, one of the major providers of social services in the archdiocese.
The two bishops also wrote a letter explaining their appreciation of the two football organizations.
It is a blessing for the people of Philadelphia and Boston that Jeffrey Lurie and Robert Kraft have always held service to others as a foundational principle of their personal and professional lives. We pray for a safe and enjoyable Super Bowl for both teams and all spectators, and that the gifts of God's love and peace may bring us closer together as a society.
Supported by the prayers of priests and bishops, the two teams look forward to an exciting game on Sunday.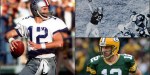 Read more:
How Roger Staubach's prayer became the first "Hail Mary" pass