They're only fighting for bronze, silver and gold, but they have something to show us in our fight for the imperishable crown.
The Olympics inspire and showcase true human excellence: rigorous discipline, united patriotism, and even, though otherwise unpopular in contemporary culture, judgement — right judgment against an objective standard, striving to signify with the beautiful precision of numbers exactly how unequal performances are.
What is more, as St. Paul testifies, athletic events can motivate us toward supernatural virtue as well as natural: "Do you not know that in a race all the runners compete, but only one receives the prize? So run, that you may obtain it." The prize he means, of course, is heaven itself. St. Paul advises us, like athletes, to practice self-control, to pommel and subdue our bodies, so that we might avoid disqualification and attain our victory wreaths through lives of Christian charity.
In other words, we ought to allow the examples of great sportsmen and women to inform our spiritual lives! And in this year's Olympics, there are several athletes who can provide us with spiritual lessons.
First, snowboarders Red Gerard from Colorado and Chloe Kim from California remind us that in the spiritual race, youth is no handicap to holiness. Many of the greatest saints were very young when they obtained that heavenly reward. Like St. Jose Sanchez del Rio, Red Gerard did not let his smaller stature stop him from playing a huge role and taking the greatest prize in slopestyle. Like St. Maria Goretti — who not only died for purity but even forgave her murderer — Chloe Kim was not content with securing the gold medal by her first run in the halfpipe; she was determined to win it with an even higher score on her last. And so she did.
Read more:
The martyrdom of Blessed Jose Sanchez del Rio: Some things are worth fighting for


Read more:
Saint Maria Goretti, the youngest Saint


Alex and Maia Shibutani, the brother-sister figure-skating duo from Michigan, remind us that our families can be our best partners on the path to spiritual perfection. They are like St. Benedict and St. Scholastica: in winning their multiple PyeongChang medals, these two have shown us how siblings, when united in pursuit of a higher purpose, can both help each other accomplish it and grow in love for one another on the way there.
Two other figure skaters, Chris and Alexa Knierim, call to mind more specifically as husband and wife how all Christian spouses areeach other's primary partners on this path, for better or worse. Both Olympic pairs helped Team U.S.A. take bronze, and both show us how anatural bond not only strengthens two companions in the fight for victory, but is itself strengthened by the shared struggle.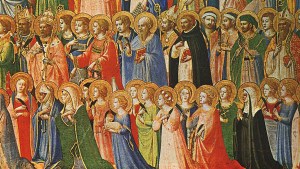 Read more:
Meet the family and their friends that gave the Church at least a dozen saints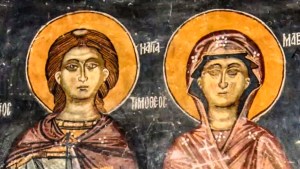 Read more:
Saints Timothy and Maura, newlyweds martyred together
Finally, Simon Kreuger can remind us that great sin in the beginning does not preclude great sanctity at the end. The Norwegian cross-country skier, after crashing just 200 yards into the 30 kilometer race, worked his way back to the front of the pack and ended up finishing first! In this astounding turnaround, Krueger resembles St. Augustine of Hippo. Both fell early and impressively: Krueger went down in a tumble of poles and rival Russian skiers; Augustine in a tumble of fleshpots and Manicheans. Both could lament their delayed starts, although St. Augustine more eloquently ("Late have I loved you, beauty so old and so new …"). And both in the end, with astonishing perseverance to recover from their past failings, achieved the highest honors. Indeed, this is the type of road to sanctity that St. Paul himself took too.
Read more:
5 Scandalous events from the life of St. Augustine, the original "bad boy"
Now none of this should be taken too seriously. To do so would be a gross irreverence. Obviously, the saints to whom I have compared these Olympic athletes sacrificed far more and achieved something far greater, infinitely greater, than winning medals in PyeongChang. As St. Paul would say, the saints have won imperishable rather than perishable crowns. That is what we ought to aim for too. For what is bronze, silver, or even gold compared to eternal life and perfect happiness in union with Almighty God? We ought to lay up our treasures in heaven, not on earth.   
But still, all creation glorifies God. These athletes can remind us of the spiritual battle by placing an image of it before our eyes. This image, however dim next to the original, moves our spirits nonetheless. And at this time of year especially, all of us could benefit from any additional inspiration to the athletic practice that St. Paul highlights in his First Letter to the Corinthians — bodily mortification.
So this Lent, let us pray that we may have the grace to imitate the Olympic athletes in this one aspect at least — to "pummel" and "subdue" our bodies, that we may gain an everlasting reward.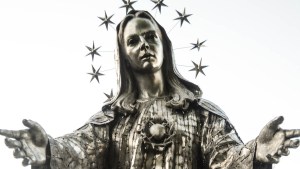 Read more:
Blessed Virgin Mary of Everybody: Do you know that apparition?