... that prove it's never too late to change.
What can God do in your life with one Bible verse a day?
Subscribe to Aleteia's new service and bring Scripture into your morning:
Just one verse each day.
Click to bring God's word to your inbox
Augustine of Hippo, who lived in the Roman Empire in the 4th century, went through a bit of a rebellious phase in his youth. Actually, he went through a rebellious phase well into his adulthood. You might say he was the Marlon Brando of the ancient world.
His indiscretions were so abundant that, later in life, after he'd seen the error of his ways, he managed to fill up a whole book called Confessionswith the sordid details of his behavior. Confessions was the first of its kind, a tell-all, no holds-barred celebrity account of hidden secrets and life lessons that teeters on the edge of TMI (too much information). In it, Augustine worries that he's waited too long to change his life, wasted too much time, and done too much wrong to ever make up for it.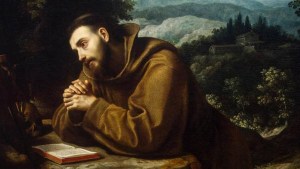 Read more:
5 saints to inspire us to take care of our planet
Like Augustine, we all have stories from our past (or even from just yesterday) that are embarrassing to recall, events from our lives we wish we could re-do and make better choices. I know I certainly do — I won't be publishing any confessions, soon, though.
Sometimes, thinking about the past is discouraging enough to keep us from making future changes, as if we're too far gone to amend our ways. With a shrug of the shoulders, it's all too common to opine, "This is who I am, I'm just keeping it real." Those words have been on my lips in the past, but I've come to see that they're an excuse to maintain the status quo, when in fact the past should not be allowed to limit future growth. One of the reasons I love Augustine's candid examination of his mistakes is that he shows it's never too late to change and become the sort of person you aspire to be.
Of course, Augustine is now known as a saint, so how bad could he really have been? How much could he really have in common with my life, or yours? The objection is fair enough, but truthfully, whatever your flaws, he was probably worse.
He was a thief
When he was 16 years old, Augustine and his scoundrel buddies stole all the pears from his neighbor's tree and threw the fruit to some hogs. This may seem like a small crime, but in his mind it loomed large. Because he didn't eat the pears and wasn't even hungry, it was thievery for the pure sake of thievery. He later wrote that throwing the pears away "pleased us all the more because it was forbidden." For Augustine, this was a first taste of the dark side and the beginning of a series of escalating vices.
Read more:
Who was the woman St. Augustine deeply loved?
He was a playboy
Teen-aged Augustine took obsessing over girls to a whole new level. As he puts it, from the time he was about 16, "the frenzy gripped me and I surrendered myself entirely to lust." The condition grew with him and he continued to battle his out of control sexual appetite all the way into his 30s. As a university student he moved in with a woman and although their relationship continued for almost a decade, he didn't marry her.
He fathered a child out of wedlock
Augustine's decision to not marry his mistress (he never reveals her name) becomes even more difficult to excuse when he reveals that she became the mother of his son, Adeodatus. He kept the two with him when his burgeoning career took him to Rome, but still he refused to commit to marriage. His mistress eventually made the difficult choice and left him. "She was stronger than I," he wrote.
Read more:
Without this saint, Augustine may have not written his 'Confessions'
He kept another mistress
The jolt of being left by the mother of his child got Augustine to finally attempt to straighten out the mess his love life had become, so a marriage was arranged with a young woman. The problem is, she was so young that she had to wait two years to actually be of marriageable age. In the meantime, Augustine lost his nerve and took another mistress. He writes that he was, "impatient of the delay," and "a slave to lust." At this point, he was feeling desperate, realizing he had lost the ability to distinguish between physical desire and actual love.
He broke his mother's heart
All of these disastrous life choices become even worse when we consider that, not only did Augustine fall into a life of gross debauchery, but also that his actions hurt those around him, including his mother, Monica. It isn't too much of a stretch to imagine that she was heartbroken and wondering what she had done wrong to raise such a profligate son. Unable to control him, she begged him to at least not seduce any married women.
In spite of all his mistakes, Augustine eventually overcame his vices. He made peace with his mother and ended up raising his son.
When we read about saints like Augustine, the tendency might be to whitewash their mistakes or pretend that they never did anything wrong, but this isn't true. The life of St. Augustine, and his honesty in admitting to everything, provides an encouraging example that no matter what our past mistakes, no matter what it is about our personalities that we dislike, whatever it is we wish was different about ourselves, it's never too late for redemption. If we work hard to move on and address our history honestly, then the past cannot hold us back from the happiness the future has in store.