Little girl died in 2016 earthquake, using her body to protect her little sister.
Francis will visit the parish of St. Gelasius I in the northeast section of Rome on February 25, the Holy See reported this week. This pastoral visit is the first of the year and the 16th since the beginning of the pontificate
From 4:00 p.m. onward, the bishop of Rome will meet the parishioners of St. Gelasius I, as well as their parish priest, Father Giueseppe Raciti. During this visit, the pope will meet with the young catechism students and children, but also the sick, the elderly and poor, and Caritas center officials. He will also meet with two young immigrants from Gambia who are being hosted by the parish.
Before celebrating Mass, around 6:00 p.m., the pontiff will hear the confessions of some parishioners, as he usually does. During the celebration, the second reading will be done by a blind person.
Placed under the patronage of the 49th pope, Gelasius I (410-496), this parish was established in 1972. Located in the heart of the Ponte Mammolo quarter, it is attended by hundreds of faithful, including many young people, said a statement from the Vicariate of Rome.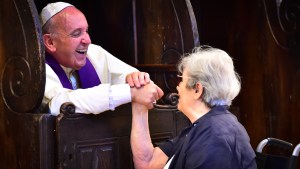 Read more:
Confession with Pope Francis: The 3-step outline for doing an Examination of Conscience
In addition, a little girl who was taking catechism lessons at the parish died in the earthquake of August 24, 2016, in central Italy. She died using her body as a shield to protect her little sister. The catechism classroom now bears her name: Giulia Rinaldo.
For this visit, Peter's Successor will be accompanied by Bishop Angelo De Donatis, vicar for the Diocese of Rome, and Bishop Guerino di Tora, auxiliary bishop for the northern sector.
Read more:
Meet Anna Zelíková, a holy teenager who had an "apostleship of smiling"