Having a "work spouse" may not be the harmless, mutually beneficial career-booster you think it is.
"Oh, I have to tell Mark about this; he's not going to believe this report!"
Mark was the first person Trish told about everything that happened in the office. If there was a juicy piece of gossip, rumors of cutbacks, or a positive conversation with their ever-picky boss, she went to him. Slowly, but surely, he had become her "work husband," and she hadn't even realized it.
The relationship was completely platonic … at first. He was a bit more senior than her, but in the same role. They shared some tasks in the office, and he had helped guide her through tricky situations involving clients, co-workers, and their often difficult-to-please superiors. They started spending more time together during working hours, often eating lunches together or jetting to each other's desks with the latest office news. It was great: it meant there was always someone to bounce ideas off, and Mark always had her back when it came to pitching ideas to their boss. They had an alliance — a powerful tool in a workplace that was often cut-throat and difficult to navigate.
Once in a while they sent quick texts or emails after quitting time. But as their relationship progressed from solely discussing work matters to venting or asking advice about each other's romantic relationships, Trish began to feel that things weren't quite right. They spent quite a bit of time talking about his marriage and how he was unhappy in certain ways, and she tried her best to be a caring confidant.
One night, after a late meeting, things got physical. Trish had been sensing that Mark had deeper feelings that went well beyond the realm of professionalism — but because he was technically senior to her, and married, Trish chose to ignore the warning signs. That night, as he made his advance, she knew the line had to be drawn.
The line between professional and intimate relationships
The research on having a "work spouse" is fairly mixed. One study, done by Office Max in 2011, found that 50 percent of those polled reported having a "work spouse." And having an ally at work — someone who genuinely cares about you — can be an excellent asset to one's career. There can be definite benefits to having someone at the office who knows you well and is worthy of your trust. These relationships can help you grow professionally and help you manage stress. The mutual support they provide can be invaluable.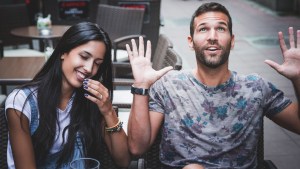 Read more:
This improv comedy trick works wonders in relationships
The trouble comes when they begin to replace your real-life intimate relationships. While they almost always start off innocently enough, many of these friendships evolve into much more. Baltimore-based marriage counselor Frank Gunzburg is decidedly against close office relationships. He writes that these relationships "could be platonic, I suppose, but the situation courts danger. One of the common scenarios I hear is where the relationship is platonic, even for years, and then some event will take one or both people over the line, and their affection spins rapidly out of control."