Program shifted for March 17 visit to allow pontiff to spend time before the saint's grave.
The program of Pope Francis' pastoral visit to Pietrelcina and San Giovanni Rotondo (Italy), planned for March 17, has been slightly modified, the Holy See press office announced. To the program, announced in December, will be added the veneration of the relics of the most popular Capuchin saint in Italy.
The program of the Bishop of Rome did not change with regard to his visit to Pietrelcina, the birthplace of Padre Pio, where he will arrive by helicopter at 8 a.m. After briefly stopping at the Chapel of Stigmata, erected at the place where the saint received the stigmata for the first time in 1910, the pope will address the faithful present. Then, he will go at 8:15 to meet the community of Capuchins and some of the faithful, and give a speech.
However, the program is slightly modified with regard to the visit to San Giovanni Rotondo, the city where Padre Pio died on September 23, 1968. The two towns are about 75 miles apart.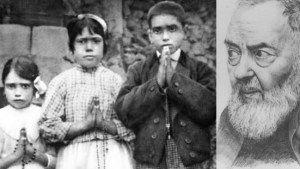 Read more:
Another link between Padre Pio and Fatima
The pope is expected to arrive at 9:30 a.m. After visiting the pediatric department of the hospital Casa Sollievo della Sofferenza (founded by the saint) and meeting with children at 10 a.m., the pontiff will go to the Church of St. Mary of the Graces at 10:45. There, he will venerate the body of Pio Pietrelcina and the Crucifix of the Stigmata.
During this visit, the pope will be accompanied by Father Maurizio Placentino, Provincial Superior of the Capuchins, and Father Cario Laborde, guardian of the shrine, as well as Father Francesco Dileo, Rector. At the shrine, the Successor of Peter will greet the religious community of the Capuchins.
Then, as planned, the pope will celebrate Mass, and after the celebration he will greet some authorities and a representation of the faithful. His departure is shifted to 1 p.m. – instead of 12:45 – to land at the Vatican at 2 p.m.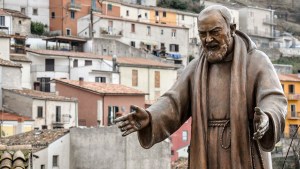 Read more:
When we're depressed or feeling blue, this prayer from Padre Pio is a way to reach out