Ignatius Strecker's healing paved the way for St. Peter Claver's canonization.
On March 16, 1864, a German immigrant named Ignatius Strecker dragged himself to his local parish in hopes of a miraculous healing. He was prepared to die, but his wife urged him to go to the church and pray.
According to the St. Louis Review, a Jesuit missionary gave a sermon at their parish about Peter Claver's intercessory power and encouraged parishioners to seek his heavenly aid.
Strecker's wife went home and begged her husband to ask Peter Claver to intervene with God for a cure of his fatal condition. He had never heard of Peter Claver, but he began to ask for Peter Claver's help. "The next day, with the last ounce of his strength, he literally dragged himself to St. Joseph's Church and came in just as Father Weninger was blessing the sick with the relic," a parish history recounts. "With sincere faith and strong confidence he placed himself in the line of the sick. Father Weninger blessed him and allowed him to kiss the relic."
Soon enough Stricker's condition began to improve and his entire body was healed, including signs of tuberculosis that completely disappeared. The doctors recognized such a miracle and it was later authenticated by the Vatican in 1887, leading to Peter Claver's canonization in 1888.
The healing occurred at St. Joseph's parish in St. Louis, which is now a shrine to St. Joseph. Each year around the anniversary of the miracle descendants of Strecker gather for a special Mass. According to the St. Louis Post-Dispatch, "This year, there were about 50 Strecker descendants. They sat in the front of church together, posed for group photos [near] the altar and crowded afterward into the rectory for brunch."
They firmly believe it was the intercession of St. Peter Claver that healed their dear ancestor.
A relic of St. Peter Claver is available for veneration after every Mass at the shrine and many believe healings continue to occur through his intercession. For example, Jim Fesler, a volunteer at the shrine, had stage 4 cancer in 2011 and has been cancer-free since 2014. He believes praying with the relic and the intercession of St. Peter Claver cured him. "I put my life in God's hands," he said. "Now, every day when I wake up, I say, thank you, Jesus, for another day."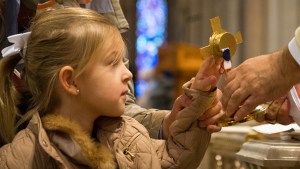 Read more:
How to venerate a saint's relic
Read more:
French bishop proclaims 70th healing in Lourdes a miracle