How to decide if the Mel Gibson film, described as beautiful but also graphically violent, is appropriate for your kids.
Dear Katrina,
I was wondering if you think I should let my younger teens see The Passion of the Christ this Easter? My kids are 13 and 14, and could really use a "wake up call," for lack of a better word, to help them get closer to God — something to truly understand the suffering that Christ went through for us. They go to CCD, regular Mass, got confirmed, etc., but sometimes I feel they need … more? Something that really gets their attention. Common Sense Media says the movie The Passion of the Christ is for 16+ as it is extremely "violent and powerful." I would love to know your opinions on this movie and at what age you think it's appropriate.
Signed,
C
———————–
Mel Gibson's Passion is a hotly debated movie with some criticizing the gratuitousness of the violence, calling it unnecessarily graphic, and others praising it for its realistic depiction of Christ's suffering as a moving experience.
My personal opinion is that the movie is incredibly powerful, graphic, and very disturbing in many parts. Even as an adult, watching the scourging and crucifixion scenes can be hard to stomach. There is also the unsettling imagery of Satan and the demons that torment Judas before he hangs himself.
Film critic Roger Ebert stated, "[t]he movie is 126 minutes long, and I would guess that at least 100 of those minutes, maybe more, are concerned specifically and graphically with the details of the torture and death of Jesus. This is the most violent film I have ever seen." Just bear that in mind when deciding what you want your children to see. If you haven't watched it recently, I suggest re-watching it again with the critical eye of a parent, keeping your children in mind during the most intense scenes.  
I understand that as a parent you want your children to feel closer to Christ, but that's a lot of expectations you're putting into a single film. I don't even think most adults can fully comprehend the weight of Christ's sacrifice and the suffering He endured for us, so expecting a movie to cause a sudden spiritual awakening in children seems optimistic, but unrealistic.  
While some 13 and 14 years old may be mature enough to handle the content of the film, you know your children best. If  they are sensitive, then postponing the viewing until they're older may be a better idea. Ultimately, the decision should be made on what you think your children are capable of handling and processing, not on whether you think they need a "wake up call."  
I think there is a balance a parent needs to strike when considering whether to let their children see this film — a balance between age appropriateness due to the graphic violence and their comprehension of the events themselves. Preteens and young teens may have a hard time processing what they see. If you want your children to be truly moved by the experience, waiting until they are more mature might be the best route to take. For what it's worth, my own 15-year-old son hasn't seen the movie yet.
If you decide to wait, there are still things you can do now to help them grow in understanding and appreciation of Christ's suffering and make Lent meaningful for them. The most obvious that comes to mind is participating in the Stations of the Cross devotion that almost every parish has on Friday during Lent. Passion Plays are also popularly performed on Good Friday. As a family, you could recite the Sorrowful Mysteries of the Rosary together and read each Gospel's rendering of events. If you still want to sit down with your kids and have a family movie night appropriate for Lent, there are several older films you can watch with them, like Ben-Hur (my own family tradition started by my Abuela) and The Robe.
Have a problem that relates to your Catholic life? Let Katrina help! Write to her at AskKatrina@aleteia.org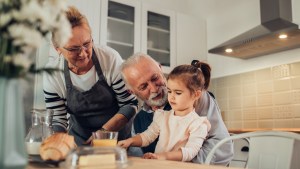 Read more:
Would it be wrong to sneak my vegetarian grandchildren some meat?