Up to this point, only members of the royal family were displayed on national currency.
About 72 years ago, an enterprising 32-year-old woman was on a work trip in her car when she got into an accident. The repairs took longer than expected, so she decided to watch a movie at a nearby theater.
When Viola Desmond got to the ticket counter, she asked for a ticket in the best section: central patio. She got a ticket and the change and proceeded to enter. Everything seemed to be going perfectly, but when she tried to enter the patio, the ticket checker said her ticket was for the balcony.
It must be a misunderstanding, she thought, so she went to the ticket counter again. But the ticket seller told her, "I'm sorry, but I'm not allowed to sell patio tickets to your kind."
Unfortunately, discrimination was nothing new to her.
Many beauty schools in her native city (Halifax) refused to admit her because of the color of her skin, and she had to try several places until she was finally accepted to one in Montreal, and then in New York. But that is also what led her to create her own line of beauty products for women of color. Viola Desmond was a woman who fought for what she wanted and looked for ways to put a positive spin on things.
But she wasn't so lucky at the movie theater. When she tried again to sit in the patio, the manager confronted her and called the police. She spent the night in jail and was charged with failing to pay the entertainment tax (the difference between the patio and balcony seat), since there was no segregation law.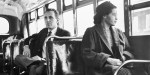 Read more:
How Rosa Parks' "no" changed the USA forever


She brought her case to the Supreme Court, but she lost. She was fined for fraud and went to live in the United States, where another woman of color also said no to discrimination in 1955: Rosa Parks.
Viola died 20 years later from a gastrointestinal hemorrhage and never received justice for her cause, but her case and her integrity were certainly an inspiration for the civil rights movement in Canada and other parts of the world.
In 2010, the Canadian government granted her a posthumous pardon, the first in the country's history. Her image was also featured on Canadian stamps, and a ferry bears her name. Last year, she was chosen to be the first woman who is not a member of Britain's royal family to adorn the 10-dollar bill.