Says he is "deeply troubled" by current world situation
Pope Francis today after leading the midday Regina Caeli said he is deeply troubled by the current world situation and is praying unceasingly for peace.
"I am deeply troubled by the current world situation," Francis said, "in which, despite the instruments available to the international community, there is still difficulty in agreeing to a common action in favour of peace in Syria and other regions of the world."
His comments come just some days after the US, Britain, and France launched missiles into Syria, attempting to destroy weapons of chemical warfare.
Speaking off the cuff, the Holy Father said, "While I continue to pray unceasingly for peace, and invite all people of good will to do the same, I renew my appeal to all those with political responsibilities to ensure that justice and peace prevail."
The Bishop of Rome has made numerous public appeals on behalf of Syria, and declared Friday of the first day of last Lent a day of fasting and prayer for the country and other war-torn regions.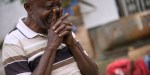 Read more:
Why does fasting have anything to do with a far-away war?