You don't have to quit; these suggestions can help you focus on the priorities.
If you feel tired; if you've been feeling like you've slowed down and you have to work harder just to get the same result; if you're worried that you're not earning enough to make ends meet … then welcome to the experience of work.
Work brings us success and satisfactions, but also tiredness and discouragement. We are warned, because ever since Adam and Eve, it can seem like life is an uphill battle. What should we do, then? Yell, "Stop the world, I'm getting off!"?
If there are times when things go well for us and we make money, it's also possible that we go through times when we have to work harder just to keep up with our expenses. Self-employed workers and their endless tax payments, the need to study for exams, a mortgage that never ends …
For those who feel all out of pennies, tired, and tempted to give up, I'm sure you will be encouraged by a quote from the movie Gladiator. Maximus Decimus Meridian, a Spanish general in the Roman Imperial Army, has been betrayed by Commodus and becomes a slave. His only way of surviving is to become a gladiator. But when facing the horrible situation that has come upon him, he responds with fortitude: "Nothing happens to us that we aren't prepared to endure."
And if you feel like your job isn't working out and things are turning out the way they were supposed to, now is the time to give these seven tips a try to help you endure:
Keep your upright intention. Ask yourself: "For whom or what do I want this job? To have success and inflate my ego? In addition to earning money, am I working to provide for my family? Do I do it for some higher reason, because I think that my job makes the world a better place and because I want to help people and society?" If so, then a moment of discouragement is just that: an episode.
Think of your family. How many heroes in history have given the best of themselves for their families? Thinking about your loved ones will help you to get out of the hole you're in. Put a picture at work or on your desktop screensaver. More than ever, take an interest in what your family members are up to and express your affection for them. During these days of tiredness, show your love in little things: serving the water and the bread on the table, leaving the bathroom in perfect shape, a caress …
Practice fortitude with an athletic spirit. Athletes know they have to overcome their down moments by training more intensely. Pick yourself up and try again.
Use maturity. This means accepting the bad times as part of life and as a step for growth. Maybe it's time to ask for the opinion of an expert you trust to see if you made a mistake in your career choice or to improve your work system.
Believe in yourself. Falling apart isn't an objective response to the situation. We have to know how to get perspective on our problems. Once we do that, we have to "fill the well," remembering all the positive values we have. Go over your personal strengths and opportunities. I'm sure that your tiredness is making you forget them.
Focus on your personal and family goals. Return to your essence. If you're in a mine and you only have the helmet, now is the time to focus on the light. That will be enough for you to guide yourself. Don't give up on your personal or family plans because you're going through a tough stage, because that wouldn't be proportional. Think big, "breathe with both lungs," and it's possible that when you recover the horizon of your dreams, you'll find a key to unblock your present moment.
Don't get discouraged. Would you like to rest but have no time for it? Hannibal's saying will comfort you: "Battles are won by tired soldiers."
And don't forget good humor …
Along with these seven tips, we can't leave out having a good sense of humor when work is wearing you down. If you break something, if you forget to record changes on a document, interiorly give yourself a prize for being the biggest doofus of the year. Don't forget that those who live or work with you are probably suffering at seeing you in a bad state. If you can smile for a moment, you'll also give them a lot of relief.
This article was translated from Spanish by Patricia Bailey.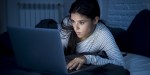 Read more:
How to know if you're a workaholic