The second such murder in a week, this brings the number of murdered Mexican clergymen to 23 in the last 6 years
A young Roman Catholic priest was gunned down in Saint Pio of Pietrelcina church, in Tlajomulco de Zuniga, a small town on the outskirts of Guadalajara. Fr Juan Miguel Contreras Garcia, 33, was reportedly hearing confessions when two gunmen entered the church, fired at the priest, and retreated in a car.
The Jalisco state prosecutor's office reported that the priest was still alive when paramedics arrived, but they were unable to stabilize him. Father Garcia was ordained into the priesthood just two years ago.
This attack comes less than a week after Fr Rubén Alcántara Díaz was brutally stabbed to death as he prepared to celebrate evening Mass. In the last 6 years 23 Catholic priests have been murdered in Mexico.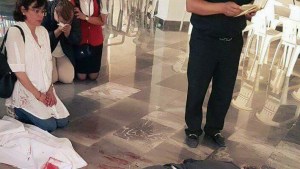 Read more:
Mexican Priest murdered on his way to Mass
On April 20, Cardinal José Francisco Robles Ortega, the Archbishop of Guadalajara, made an impassioned plea for peace and the respect for life:
"We make an urgent call to build a culture of peace and reconciliation. These lamentable events call all of us to a much deeper and sincere conversion. It is time to look honestly at our culture and society, and to ask ourselves why we have lost respect for life and for the sacred. We ask those who despise and take their lives for any reason to allow themselves to be seen by the loving face of God; and to get rid of not only weapons, but hatred, resentment, revenge, and all destructive emotions,"
The cardinal went on to suggest the Catholic faithful accompany their priests as they go about their duties.
While the motives behind this string of priest killings are unknown, Mexico is currently experiencing a wave of drug-related violence. Several tourist destinations have been plagued by gruesome murders over the last several weeks.