The singer, who was accompanied by actor Orlando Bloom, wore all black and a veiled hat in accordance with Vatican protocol
The singer Katy Perry and her boyfriend, actor Orlando Bloom were among the key figures in the entertainment world attending the Vatican's "United to Cure" conference, held by the Pontifical Council for Culture.
At the three-day conference, held April 26-28, experts from various fields, including health care, media, entertainment and technology, met to discuss ways in which technology can be used to improve health care and increase access to the underserved.
During the conference, Perry, who was dressed in all black with a pillbox hat and veil, and Bloom, dressed in a dark suit, warmly greeted Pope Francis.
Why did Katy Perry wear black to meet the pope?
It is traditional and in accordance with Vatican protocol for women to wear black when meeting the pope. It is also recommended that female visitors wear a veil or mantilla, as Perry did.
While it is recommended that women wear black and men wear dark-colored suits and ties, as Perry and Bloom did, there is a separate protocol for queens of Catholic countries, and some wives of heads of states who come from Catholic countries. In these cases, women may wear white, as they have the "privilege du blanc."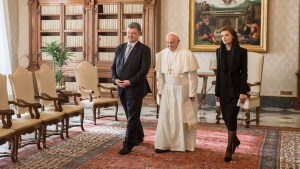 Read more:
How to dress if you're going to meet the pope
The pope promoted innovation and health care for all at "United to Cure" conference
Pope Francis, speaking to the 500 some participants, emphasized the importance of preventative care, and hailed new advances in curing autoimmune, neurogenerative diseases and in the field of regenerative medicine.
He also called for the "ethically acceptable" practice of genetic medicine, and reminded the assembled of "our responsibility to one another and to all living creatures," reported Vatican News.