A couple's crisis can begin long before either person realizes it.
A marital crisis begins slowly, almost imperceptibly. It gives off sparks here and there, but we tend to be too caught up in day-to-day life to pay any attention to certain details that should be red flags.
Marital crises are usually rooted in a personal crisis. That's why it takes a lot of human and emotional intelligence to understand our spouse — and ourselves. Greg and Julie Alexander, founders of the Alexander House Apostolate, say these four stages of a marital crisis require special attention:
1. When things start to go south
What happens:
Small differences start to bother you
An interior dialogue begins about why your spouse is not what you hoped for
At this stage, your spouse's small idiosyncrasies or imperfections begin to grate on your nerves. In the past, even the sound of him chewing his food seemed like a lovely melody to you, but now you can barely stand the sound of him breathing. If he asks you to serve him lunch or change a lightbulb, you think things like: "Useless idiot. Why don't you just do it yourself?"
If you're at this stage, you need to stop and reflect: What is happening to me? Why is she irritating me so much? What is he bothering me?
It could be that your spouse is not what you had hoped for. But could it be that you are also not what he or she had hoped for?
We need to live in charity, with our feet on the ground. If you got married, it was for a reason; you are now a couple with a tremendous amount in common.
2. Problems in paradise
What happens:
You feel uncomfortable sharing your feelings with your spouse
You pretend everything is fine, but you know it's not
It's the typical "Why tell him if he's not going to understand me?" Your husband or wife knows you're going through something. He asks you about it and you say there's nothing wrong.
This is dangerous, because it's the start of an emotional disconnect. You're here, but your mind and heart are somewhere else. What communication you do have revolves around the kids or trivial, practical topics. It's never about the two of you.
If you're at this stage, it's important to admit that something is bothering you and tell your spouse, but prudently and kindly.
Remember that you have to ask in order to receive, and that we receive more when we ask sweetly.
If something is happening, you need to take control of the situation and be responsible for your part in it. If you don't, you'll end up like a pressure cooker, and something that could have been solved easily will become far more complicated later. Remember that communication is the vehicle of love.
3. On the threshold
What happens:
You feel zero connection to your spouse
You start to fill the void with other activities and/or people
This stage is very dangerous. Once you get to this level, you're very vulnerable, and you become the perfect target for someone or something else to seduce you by promising to meet your needs.
This is where affairs happen, and not just talking emotional or sexual affairs, but even the "affair" of dedicating more time to other activities and people than to your spouse.
In other words, the time you should be giving to your spouse is now given to other things that bring greater satisfaction. That's a kind of infidelity, too.
4. I'm out of here
What happens:
You are constantly arguing … almost on purpose
You feel drained, hopeless, and exhausted
This is the most dangerous stage. You think everything is useless, that there is no need to work on the relationship, and that the solution is to start your exit plan. A spiritual and emotional blindness that sets in that keeps you from seeing beyond the problems.
If you feel like your relationship is one of these stages, do something! Look for support as soon as possible — not with friends, but with a professional. Every crisis has a solution. (Although this is not to minimize issues like abuse, neglect, and ongoing infidelity.)
Work on healing yourself and healing your marriage, and on rebuilding it. A marital crisis can help you perfect your love, and create something even more beautiful than you had in the beginning.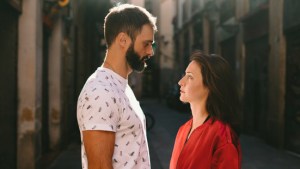 Read more:
Should I end my marriage because I don't feel love anymore?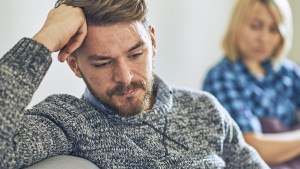 Read more:
5 Signs you need marriage counseling … even if your marriage isn't in crisis