Share this with someone who needs a little extra help to cross that finish line.
Final exams, papers, and tests are enough to stress out even the best of students. While study and preparation is necessary, prayer can open us up to receive the grace to be calm and confident as we complete another academic year. This simple and powerful prayer written by the patron of students and universities, St. Thomas Aquinas, is perfect for students to pray during any stressful time, perhaps especially during final exams …
Creator of all things, true source of light and wisdom, origin of all being, graciously let a ray of your light penetrate the darkness of my understanding. Take from me the double darkness in which I have been born, the obscurity of sin and ignorance. Give me a keen understanding, a retentive memory, and the ability to grasp things correctly and fundamentally. Grant me the talent of being exact in my explanations and the ability to express myself with thoroughness and charm. Point out the beginning, direct the progress, and help in the completion. I ask this through Christ our Lord. Amen.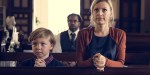 Read more:
Want some heavenly help for your children? Turn to these caring saints