This discipline isn't hard to practice and comes with a lot of benefits.
So many diet plans focus on what you eat, but there's a hidden tool many have been missing: intermittent fasting.
I'm not talking about 40 days and nights in the desert kind of fasting. (Hold the locusts and honey!) Nor is this the kind of draconian regimen where you go to bed hungry and miserable, and then rebound by assaulting a gallon of ice cream the next day.
Intermittent fasting is much more moderate and attainable, something that even those of us not blessed with iron willpower can do.
What, precisely, is intermittent fasting?
Intermittent fasting means limiting your eating to an eight-hour window of time, and fasting for the other 16 hours. It doesn't mean eating less than you normally eat. It just means eating your normal amount of food within a specific time period.
So don't worry: you won't go to bed #hangry. And coffee isn't considered food, so you can still have your non-negotiable mug of steaming bliss first thing in the morning.
Here's how it works: you wake up, you make your coffee, and you start your day as usual. But you don't eat your first meal until, say 12 p.m. You eat your normal amount of reasonably healthy food, but you don't eat past 8:00 p.m. If you're an early riser, you might want to shift the eight hours a little earlier … or later, if you get up late. The key is to limit your eating to that window of eight hours.
Here's why it works
When we eat, our bodies are in what is called a "fed state" for 3 to 5 hours: our digestive system is hard at work, and our insulin levels are up. Next, we go into the "post-absorptive state," which lasts 8 to 12 hours after our last meal.
But the real magic happens after that 12th hour, in the "fasted state." During this time, our insulin levels are low, and our body switches over to burning fat that it couldn't reach during the fed or post-absorptive states.
What does this mean? It means when you fast, your body will burn more fat than it usually does. And all of this without any caloric restrictions, although fasting is not a license for pigging out on junk food.
The benefits
Easier than dieting
Let's face it: dieting is extremely hard because our usual pattern of three meals a day plus snacks forces us to make heroic choices over and over again. Saying a flat "no" to all food outside your eating window is somehow easier than opening the fridge 20 times a day and not dipping into that leftover chocolate cake.
Dr. Michael Eades writes: "Diets are easy in the contemplation, difficult in the execution. Intermittent fasting is just the opposite – it's difficult in the contemplation but easy in the execution."
The hunger doesn't last for too long, especially if you have a hot drink in the morning. Just be brave for a few hours, and then eat your normal foods (hopefully good and healthy ones!).
Streamlines your day
If you don't have to make and eat breakfast every day, you'll save time and reduce decision fatigue. Sometimes fewer decisions means better decisions.
Saves money
If you decide to just drop breakfast from your life, well, that's one less thing to buy at the grocery store. Look at you, saving money like a boss!
Helps you gain confidence
As Dr. Eades said, fasting seems like it should be hard but it's actually not that difficult in practice. Once you get through your first day successfully and you realize that you didn't die or suffer spasms on the kitchen floor, you'll be more mentally prepared to do it again the next day. And as you realize that you are, in fact, capable of saying "no" to self-gratification for short periods of time, you'll gain confidence in your own willpower. And that will bring untold benefits to all areas of your life.
Boosts brainpower
Dr. Mark Mattson, a professor at Johns Hopkins University and Chief of the Laboratory of Neurosciences at the National Institute on Aging, says fasting has been proven to counteract Parkinsons, Alzheimer's, and dementia. Learn more about fasting's neurological benefits here.
May prevent and help treat cancer
It is well known that reduced caloric intake leads to longer lifespans and better health, but recent studies have also shown that fasting can help heal people who already have cancer and who are undergoing chemotherapy.
Researchers found that fasting prior to chemo treatment protected the immune system and actually helped it regenerate; they concluded that "fasting may mitigate some of the harmful effects of chemotherapy."
Gives you an excuse to eat breakfast for lunch
What if breakfast is your favorite meal and you can't live without your pancakes, eggs, and bacon? No need to worry: just eat it for lunch!
Some precautionary notes …
Intermittent fasting is not for everyone. If you have a complicated relationship with food, such as past episodes of anorexia or bulimia, or a tendency toward compulsive dieting, this is probably not the right approach for you.
If you are pregnant or breastfeeding, it's not the right time to try it. And if you have issues with blood sugar or another health condition, check with your doctor first.
Of course, a diet of good, whole foods – lots of vegetables, grains, fruits, and quality meats and fish, etc. – is always key. Intermittent fasting won't undo the bad effects of too much processed food.
Another precaution: don't be too rigid with it. If you're with loved ones who took the trouble to make you a nice breakfast, by all means, eat it! And Sundays off won't do you any harm. Enjoy every bite … and then pick up your routine again the next day.
Learn more about intermittent fasting here and here.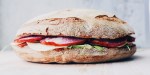 Read more:
Why is fasting so hard?