Soccer players make plans to include the divine in their (hoped-for) victories.
What can God do in your life with one Bible verse a day?
Subscribe to Aleteia's new service and bring Scripture into your morning:
Just one verse each day.
Click to bring God's word to your inbox
During a conversation with a journalist on the day before a new international friendly tournament in preparation for the World Cup, Argentine soccer player Lionel Messi instantly caused a buzz in the media.
Player #10 on Barcelona's team, who is playing in the World Cup with the Argentine selection, promised that if Argentina wins the World Cup, he will go on a pilgrimage on foot from his house to the Marian shrine of San Nicolás.
Martín Arevalo, a reporter for TyCSports, suggested, "If we end up as world champions, should we go walking to [the shrine of] Luján, or San Nicolás?"
Messi laughed, thought it over, and answered, choosing the shrine that's closest to his home—a shrine that was born and grew practically at the same time as him, just 50 km (31 miles) from his hometown of Arroyo Seco: "Yes, yes, of course, to San Nicolás," he said, and he sealed his commitment by shaking the reporter's hand.
Sergio "el Kun" Agüero, another player on the team, joined in on the promise. Worried about having to set out from Buenos Aires to San Nicolás, which would be a distance of nearly 300 km (188 miles), el Kun said he'd share in the commitment, but he'd leave from Messi's house, not his own. When he found out how much shorter the distance would be, he quipped he'd do it "running."
At the shrine of Our Lady of the Rosary of San Nicolás, they'd be waiting for them with open arms—and they'd even go out to meet them. The news outlet Infocielo talked to Councilman Manuel Passaglia, in charge of the district of the town of San Nicolás de los Arroyos, and asked if he'd welcome Messi. He replied that he'd wait for him with a meal of grilled steak, and would accompany him walking "from the door of his house."
A "new" shrine
The shrine of Our Lady of the Rosary of San Nicolás has a very short history. The devotion was born due to events in 1983, just four years before Lionel Messi was born in nearby Rosario.
It all started when several rosaries in various houses in San Nicolás reportedly started to glow. Then, on September 25 of that same year, the Blessed Virgin is said to have appeared to a married lay woman, who was praying as a result of these strange happenings. Mary asked the woman to find an image of her that had been blessed by a pope and which had been forgotten. An image with these characteristics was found in the bell tower of the cathedral of the diocese, and it was a representation of Our Lady of the Rosary.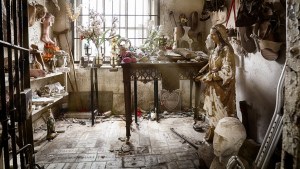 Read more:
This is how miracles are approved by the Church
A couple of years later, construction was begun on a shrine which today receives hundreds of thousands of pilgrims each year. It was built over a period of 28 years, with the support of the bishop and his successors, and the generous economic contributions of the pilgrims. The shrine was completed in 2014, and is located in what is popularly known as "el campito" ("the little field"), on the shore of the Paraná River.
Pilgrimages on foot, on horseback, or in motor vehicles from various locations have made San Nicolás one of the most frequented pilgrimage sites in Argentina. The most important annual pilgrimage takes place on September 25. The final game of the World Cup in Russia will be played on July 15.
Will Messi be visiting the Virgin Mary's house on September 25 this year?
Read more:
15 Sports heroes inspired by their Catholic faith