In her diaries, she mentions the Mass about 300 times, and prayer nearly as often.
"I awoke too late for Mass and that spoiled my day," she wrote in her diaries one day early in her Catholic life. Many years later she wrote, "The weight of the world is on me when I awake, and until I get to Mass." A lot of people think of Dorothy Day as a political figure, the radical who founded the Catholic Worker movement, and maybe as someone who lived her life in service to the poor.
She saw herself as first a faithful Catholic enfolded by the Church and fed by her sacraments. That comes through very strongly in her diaries. Published as The Duty of Delight, the diaries cover her life from 1934 — she'd entered the Church in 1927 — to a few days before her death on November 29, 1980.
I think the book's at least a minor classic. It helps explain why her cause for canonization proceeds. She mentions the Mass about 300 times, and prayer nearly as often. Sometimes together: "I committed all the sins young people commit today. I am glad we repeat the Confiteor every day at Mass. I am glad to know so many prayers by rote such as the Memorare and the Act of Contrition. They are no more meaningless than a beautiful poem is."
Here are some of her experiences of the Mass and her thoughts about it from her diaries.
Dorothy Day on the Mass
First one from Day's Catholic Worker column, because it sets out clearly what she believed about the Mass. "The reason for man's existence is to love, honor and serve God; [and] the greatest work of the day is the Mass, the offering of the God-man to God for His praise, honor and glory, in reparation for our sins and in thanksgiving for all His benefits."


Read more:
Bishop Barron: What is happening at Mass?


The Mass comes first. We must also remember, she continues, that we're not given the Mass to help with our work. It's not a tool. "When we use the Mass to further our work, which we regard as of such importance … it is as though we were walking upside down, on our heads."
As she put it in her diaries: "Besides, man's first duty is to praise God, to adore him, to thank him. Even the unbeliever can say, O God, if there is a God, have mercy on me, or us. And how can we do this adequately except through his son. When we have received Communion, then it is Christ himself who can adequately praise and adore."
Day had lived in the bohemian artsy circles of the 20s before she entered the Church, and she continued to love art and music. But she loved more the reality of the Mass. She wrote in 1951: "Sung Mass at 8 after Prime. All girls, voices none very good, but it was correctly done anyway. And I enjoyed singing again. One comes alive in the Mass, is a living part of it."
Mass was especially moving when celebrated with God's most vulnerable people. One Good Friday she wrote: "Mass awkward last night. The desire of Pat for beautiful liturgies. But we are in parish of the poor, large families. Good tonight. We were all more together. Most of us from CW there. We could of course shop around and find Palestrina Mass at some Episcopal church, a Bach chorale on Fifth Ave. But we are with the poor, the people. The disorderly. I find it all very satisfying, tho not aesthetically."
Read more:
Catholicism: "Here comes everybody," even the annoying ones
Nourished by his flesh
Day loved the repetition and was clearly vexed when other people didn't. "I was saddened last week when a former nun told me she was tired of going to Mass daily. She had been doing that for fourteen years, and no longer felt it necessary. So much routine."
She continued: "One could only point out that breathing was routine, and eating was routine, and many a time we had no appetite, food even seemed disgusting to us. We go eat of this fruit of the tree of life because Jesus told us to. … He took upon himself our humanity that we might share in his divinity. We are nourished by his flesh that we may grow to be other Christs. I believe this literally, just as I believe the child is nourished by the milk from his mother's breast."
Day also saw how the Mass transformed the way we saw the things of our world, food not least. In an unusually complaining moment about her life in the Catholic Worker house, she wrote: "Stone-hard baked potatoes for supper, cabbage overspiced, the usual chicken. … Another food grievance! Onions chopped up in fruit salad, plus spices or herbs! A sacrilege to treat foods in this way. Foods should be treated with more respect since our Lord left Himself to us in guise of food. His disciples knew him in breaking of bread." Not, she seemed to think, in the mixing of onions into fruit salad.
One final quote (of many I could have shared) I find moving. The "conference" she mentions was part of a retreat the community was hosting.
"Just now a knock came at the door and a young man wanted to spend the night. I told him to go eat but that we could not put him up. Always this impulse to say no. Yet each such encounter is an opportunity to see Christ in the other. Our brother. So I left the conference and told him to stay. He will make the conference tonight, Benediction, Mass in the morning. Who knows but that God would miss those prayers that might have been said, this praise, this thanks, this glory, no matter how inarticulate our brother is."
~
Those interested in knowing more about Dorothy Day and her work should start with the Dorothy Day Guild. Geoffrey Gneuhs, chaplain of the Catholic Worker community at the end of her life, describes her spiritual sources here. His homily for her funeral Mass can be fund here.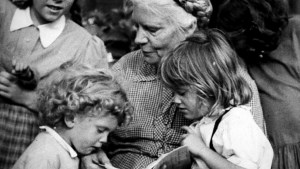 Read more:
4 Ways Dorothy Day overcame loneliness — and so can you